Jam
Finborough Theatre
Reviewed – 28 May 2017
⭐️⭐️⭐️⭐️
"A thought provoking play featuring two terrific actors"
With a general election just a couple of weeks away the manifesto pledges of the main parties have a focus on education, whether it be funding or the drive to improve emotional health and wellbeing. Interesting timing then for a play about the relationship of a teacher and a former pupil which is told at the Finborough Theatre for a four week limited season.
Jam is a play by Matt Parvin who trained at the Royal Court Theatre and the Arcola Theatre Writers Programme. His professional debut Two Roads premiered at VAULT Festival in 2015.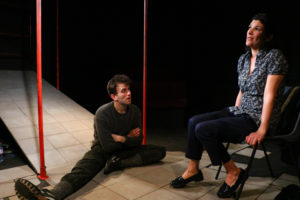 It isn't clear why the play is called Jam. A couple of explanations could be 'in a bad situation or serious trouble' or 'Just About Managing'. Either would be appropriate as the story recalls each character explaining what happened 10 years ago between them and how they are managing life since. It certainly covers the need for emotional health and wellbeing in the school place and beyond.
Kane McCarthy is a 23 year ex-pupil with ADHD who has tracked down his old school history teacher Isabella Soroush 10 years after a classroom incident that caused her to leave her job.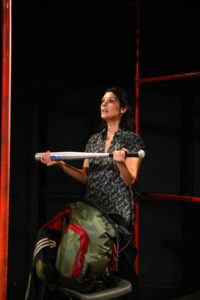 The play opens with Bella working late and alone in an upper state school reviewing and marking work. This relaxed situation is interrupted by the arrival of Kane, partly dressed in combat clothing and with a back pack which, it turns out, holds a baseball bat. He immediately brings an uncomfortable atmosphere to the stage, violence always seems a short distance away. Tension remains throughout.
Over the course of the next 90 minutes we learn about what happened between the pair, seen from opposing viewpoints. Initially it seemed that Bella was a victim of an unpleasant attack by Kane but as the dialogue develops the details are far more complicated. There are underlying references to the social stereo typing of Kane by Bella and also racism by Kane against Bella.
The audience is taken on a roller coaster ride of emotion siding with each character in turn, yet wondering then whether each are telling the truth and therefore who to believe. Is Bella as innocent as she seems? Does Kane have a life limiting illness? So many questions are posed though not all are answered. The writing cleverly makes the audience think about the content long after they have left the venue.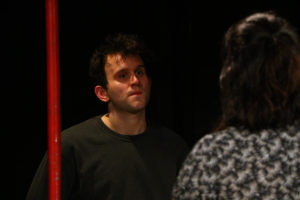 What makes this production stand out are the terrific performances from both Harry Melling (Kane) and Jasmine Hyde (Bella). Neither could have given more to the production. Melling, who is known for work on the Harry Potter films, commands the stage well and is totally believable as the damaged young man he portrays. Hyde is confident throughout though she has a greater role as the story progresses. Both are accomplished actors of stage and screen, appearing comfortable in handling their challenging parts in Jam.
Parvin's writing has much to be applauded though there was a slight feeling that some of the content could have been better developed. Overall though it was a thought provoking piece of theatre enthusiastically approved of by the attentive audience. The stage setting though minimal was appropriate for the production.
Photography by Mathew Foster
Jam
is at the Finborough Theatre until June 17th