LOOP
Theatre N16
Opening Night – 7th June 2017
⭐️⭐️⭐️⭐️
"Outstanding acting from a talented young cast" 
The play opens with all four characters on stage interacting with the music from the generation they are portraying. Although this is initially confusing each persona develops as the play unfolds and all eventually becomes clear!
Emily Thornton as "the Woman" delivers a brilliant monologue detailing her move from inner city London to Manchester in order to seek a new life for herself and find out what else is out there. As each of the remaining three are introduced, we find out how music influences and shapes the course of their lives.
They are all deeply passionate about the music of their time. Spanning 50 years we see how music shapes their lives, affects the decisions they make along the way and ultimately ties them together and deepens the bonds they have. As the storyline unfolds, we see the grandson seeking a new life and hope from the city his grandmother left behind all those years ago.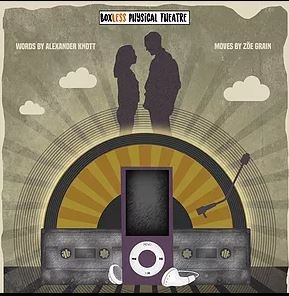 Rubie Ozanne as "the girl" delivers a perfect portrayal of a petulant and sassy teenager – incredibly believable with great stage presence.
The simple set and intimate venue means the movement, acting and music are intensified and you very quickly become drawn in by the characters. At times I felt that the storyline wasn't fully developed … it was unclear as to why "the woman" was leaving London and thought her motivations could be better explained. I also felt that the use of the music could be further explored – it was such a key component to the plot I was expecting there to be more of it rather than short snippets! Just as a tune got me toe tapping it suddenly stopped! At 60 minutes with no interval this is a play that with a little bit of development could easily be a 5 star production.
With Aaron Price and Alexander Knott completing the outstanding acting from a talented young cast, Boxless Physical Theatre are clearly a talented bunch of actors and creatives – looking forward to seeing what they produce in the future.
Loop has words by Alexander Knott and moves by Zöe Grain Loop.
At Theatre N16 until Saturday 10th June