Trinity
The Asylum, Caroline Garden's Chapel
Opening Night – 19th June 2017
⭐️⭐️⭐️
"An eerie and foreboding piece"
Trinity, created by Brave New Worlds, consists of three multitalented performers combining and utilising their skills in dance, movement, sceneography and dressmaking to create an encompassing piece of work focusing on the feminine and its forms
The Asylum, Caroline Gardens Chapel in Peckham is the unusual setting for this piece. Built in 1826 and used up until WW2, when the area was heavily bombed, it stood strong in surviving The Blitz but remained empty ever since. With remarkable original features such as the stained glass windows and memorial plaques, the venue itself is attraction enough in seeing this piece of work. Since 2010 it has been adopted as an arts venue and Trinity makes the most of this abandoned setting. Clever lighting (Darren Johnston) and sound effects (Demetrio Castellucci)  add to the eeriness of the chapel.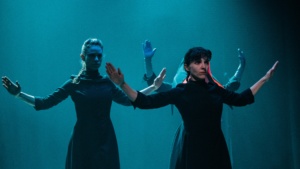 Unfortunately the lighting was a little dark and anyone from the 2nd row back struggled to see the floor work. However the sound appropriately matched the feel of the piece as the bass rattled audiences chests and echoed in to the rafters.
The piece itself explored femininity in its many forms and I was drawn to how the female body is perceived in different contexts. An eerie and foreboding piece with loud music, haze and darkness, with minimal linearities, made me ask – are the audience meant to be scared of the feminine? Or are the creators fearful themselves? I still don't know but the fact I'm asking those questions is what Trinity wants.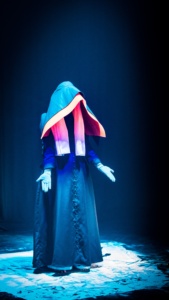 The highlight of the piece were the spectacular costumes which used a range of shapes and materials to add to the abstract feel of the performance. Encompassing lights, charcoal, full body suits and plastic, the costumes and the space itself make Trinity an interesting 50 minute watch.
Reviewed by Lucy Marsh
Trinity
by Brave New Worlds 
Presented by Ovalhouse and Brave New Worlds
is at The Asylum, Caroline Garden's Chapel until 
27th June