Bare Essentials – New Writing
The Arts Theatre
Reviewed – 16th July 2017
⭐️⭐️⭐️
"Less is More … "
Bare Essentials is essentially one of the most refreshing pieces of theatre to see in the heart of the West End. It aims to bring new writing to Theatreland, where exciting pieces of theatre are not only directed well, but also performed well.
Sometimes less is more, and this show is exactly that as there are no fancy sets, no flashing lights and no special effects. However, what makes Bare Essentials so special, is the incredible talent that is produced on such a minimalistic stage.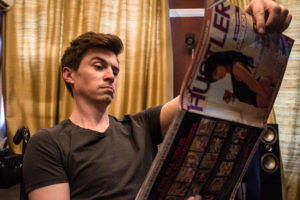 In under 2 hours, audiences were treated to 6 different performances, all lasting around 15 minutes and Stephen Kennedy's 'Should've Gone To Lourdes', was a great way to start the show. The performance begins with two brothers arriving at a brothel in Amsterdam, where Chris is anxiously waiting for his appointment. He soon fears that things might not go according to plan as he is in a wheelchair, but his brother Brian reassures him and even jokes that he might get a discount because he's disabled. Just before Chris goes in, his phone begins to ring and it is his Mum. Both boys begin to panic and Brian wonders if their mum has put a GPS tracker on Chris's wheelchair.
This excellent piece of writing was outrageously funny and both actors, Eddie Usher and Edward Bell, performed brilliantly. This was very entertaining and it was a shame that it was only 15 minutes long. Bold, engaging, and funny, Kennedy's hilarious new play has the potential to be very successful in the future.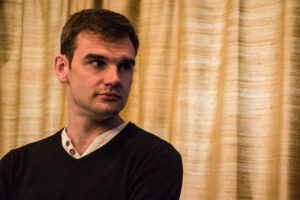 Chekhov's Gun written by Ben Beck, was not what I expected. Duncan Mason delivered an incredible performance as a young man who wanted to explore the possibilities of using a pistol on stage. He repeatedly said that the gun will be fired and someone in this theatre will die. Of course this didn't happen, but Mason did an excellent job at convincing the audience that this could actually occur. What's more, is that he soon begins to show concern over the shootings that have recently taken place in schools, malls and movie theatres, almost highlighting how horrific gun crime is in today's society.
Towards the end of this piece, he puts the gun to his head and is soon dragged off stage, where a gunshot is then heard. Although this is very distressing and at times very uncomfortable to watch, Beck is highlighting a very important theme that needs to be addressed.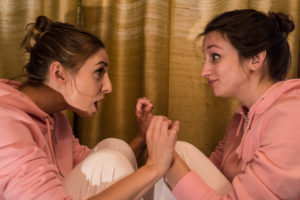 Roommates by Matthew Fowler was by far my favourite piece of the evening, as its clever concept, hilarious one-liners and brilliant acting made this very enjoyable to watch. Both Rebecca Hutchins and Phoebe Batteson-Brown, were excellent at playing unborn twins who were annoying each other in their mother's womb. Molly reveals how she is fed up of her sister "hogging the placenta," whilst Emily is annoyed at her sister for using the "umbilical cord as a skipping rope." This hilarious play made me laugh from start to finish and I was very impressed with how well this was written. Being a twin myself, this certainly made me reminisce about the times my sister and I would deliberately wind each other up. Fowler has done an extraordinary job at writing such an innovative piece of theatre and deserves all the success that I'm sure this play will receive.

Overall, Bare Essentials is a great opportunity to see fresh new writing, where you can be laughing one minute and gasping at the next.
It's definitely a show I will see again.
Reviewed by Jessica Brewer
Photography courtesy of Encompass Productions

BARE ESSENTIALS
was at The Arts Theatre on the 15th & 16th July