The First Hippo on the Moon
Pleasance Courtyard – Edinburgh Festival Fringe
Reviewed – 8th August 2017
⭐️⭐️⭐️⭐️
"Fun, dynamic and well-paced, the show also had a take home message, to 'dream big'"
Les Petits Theatre Company's stage adaptation of David Walliams' The First Hippo on the Moon was not aimed at me (a twenty-one-year-old single graduate who isn't generally inclined towards being amused by scatological humour), but that didn't stop me taking pleasure in its well-executed silliness and imaginative realisation.
The plot is simple and engaging; a big for his boots hippo, Napoleon Heracles Waldorf Franklin the Third, has a dream – to be the first hippo on the moon. He is puffed up by his own sense of self-importance and presumption that he will succeed. Then we meet Sheila, a hippo from more humble, earthly beginnings, who reveals to her lively crew of jungle creature friends that Napoleon 'stole her dream' from when they were at school together, and teased her for ever daring to dream so big in the first place. And so Sheila's quest begins to beat him to the moon, with a lot of help from her friends.
Combining puppetry and catchy songs (I'll overlook Silver Bob the monkey's Jungle Book rip off as positive derivation), the cast electrically and convincingly inhabit their animal roles, transporting and manipulating their puppets with nimbleness and ease. Their skill was delightful to witness, particularly in the space scenes, when they whizzed about with star and rocket paper puppets, accompanied by much 'whooshing'.
Special commendation must go to the actress playing Sheila, who was so convincing in her giant hippo costume that my disbelief was wittingly suspended. The set was creative and agile, and the moveable palm trees were whisked out of the way to make room for a huge, cratered moon, lit by a background of glimmering fairy light stars. Truly magical.
Lighting was creative and exciting, and the packed auditorium of children were captivated. The script had plenty of plays on words, good for slightly older children as well as for adults – a particular favourite was the mention of a giant orange elephant, called 'Donald Trunk'. And, of course, I cannot forget the abundance of poo jokes, which involved some audience participation – 'excrement work'. It literally fuelled the production …
Fun, dynamic and well-paced, the show also had a take home message, to 'dream big', no matter what your background. That friendship is what is important, and that it's 'not where you come from or where going to, but who you are going with'. If you've got kids, go and see it. And if you're twenty-one and at a loose end, take all your friends along.

Reviewed by Eloïse Poulton
Photography by Richard Davenport for The Other Richard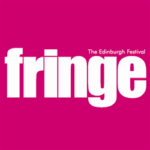 THE FIRST HIPPO ON THE MOON
is at the Edinburgh Festival Fringe until 20th August