America's No 1 Detective Agency
Drayton Arms Theatre
Reviewed – 7th August 2017
⭐️⭐️⭐️
"With time, and with more conviction, I think we have a little gem"
We're in downtown LA, in the run down offices of private investigator Vivian O'Connell (Fleur de Wit). A single overhead light bulb casts its sad glow as Vivian sits at her desk, feet propped up next to a half empty whisky bottle. A detached air belies her anxiety as she draws on a cigarette. A jazz trio plays in the corner as other shadowy figures whisp through the haze. One almost expects to hear Sam Spade's dreamlike drawl over the rhythms and arpeggios of the 'film noir' music.
The aptly named "Fatale Femme" Theatre Company have transformed the upstairs space of the Drayton Arms into an evocative replica of a film noir setting and, right on cue, a femme fatale bursts through the door. She is Betty Channing (Alex Hinson), a Hollywood wannabe who has (supposedly) come to enlist the services of the private investigator and her sidekick Joey (Siobhan Cha Cha). The scene is set, but then all too quickly dismantled as the various strands of the convoluted plot twist and knot together in a whirlwind of hidden motives and double crossing.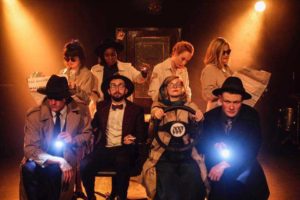 It is all great fun, and part of the fun is trying to keep up with the action. But it can leave you breathless and wanting the cast to just slow down a little and let you come up for air. Liv Hunterson's writing is as sharp as a knife but, in the hands of this ensemble cast, didn't always cut the mustard.
The script needs more careful handling and a calibre of acting that this more than able troupe didn't quite reach. Anna Marshall's direction was assured (the use of a live band to underscore and punctuate the action was an inspired choice), and the mix of ideas worked well to achieve a balance of humour and menace, ingredients essential to the classic film noir genre. And the stock characters were all there in the ensemble; the anti-hero Bobby Munroe (Hamish Adams-Cairns), the villainous mob boss Larry Siegeli (Oliver-David Harrison) and squealer "Teddy" Worthington who has some of the best lines, incisively delivered in a cut glass English accent by Iain Gibbons.
However, all the ingredients came out of the pot slightly half-baked, with too many ideas vying for centre stage and too little time to concentrate. This could certainly benefit from both a longer running time and a longer run. With time, and with more conviction, I think we have a little gem, and a format that could really work in the theatre.

Reviewed by Jonathan Evans

AMERICA'S No 1 DETECTIVE AGENCY
was at the Drayton Arms