Olympilads
Theatre N16
Reviewed – 11th August 2017
⭐️⭐️⭐️
"Olympilads ran a splendid 100 metres; now let's see it on a long-distance track
Walking in to the theatre space at the start of Olympilads, the audience is immediately involved. The room is bisected by a makeshift running track, and a young man is pelting up and down it. Cushions are laid out on either side of the track, in front of the chairs which surround it, to extend audience seating. The room is small, and we have to cross the track to sit down. Once settled, we notice two seated figures who are also clearly part of the set-up: a young man in office clothes bent over a dispiriting-looking pile of post, and a casually dressed young woman writing in an exercise book. The ceiling of the room is hung with Union Jack bunting, and we can hear Rihanna and low level athletics commentary.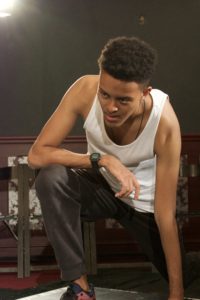 This pre-set served as an excellent prelude to the action, but, once the play began in earnest, and since the audience was not at any point invited to be part of the piece, a lighting change was necessary to separate us from the performers. This reviewer chose to sit on the cushions, along with a few other audience members, and we shared a palpable sense of unease at, quite literally, sharing a spotlight with the actors.
The first ten minutes or so suffered a little from lack of clarity – the physical energy that powered Nebiu Samuel's peformance as Darren came at an initial vocal cost, and for that reason made the opening scene somewhat hard to follow – but this swiftly gave way to an entirely involving story, dynamically written, and superbly acted.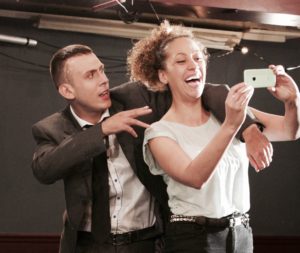 Andrew Maddock writes contemporary London voices brilliantly, and it is a rare treat to hear the vital, funny, sexy, poetic rhythms of our city so perfectly captured. A treat too, to see acting of this calibre. Nebiu Samuel ably embodied the driven and damaged Darren, but the night belonged to Michelle Barwood and Rhys Yates, playing Darren's half-sister Abigail, and his half-brother Simeon, respectively. The dance of the renewal of their relationship was perfectly-pitched emotionally, and both Barwood and Yates remained fully connected to their characters throughout, which made their work incredibly alive and involving. The gentleness of the unbearably poignant final scene was devastating.
With writing and acting of this quality, it was only a shame that the play came to its end so quickly. The characters were sufficiently well-drawn that there seemed an awful lot further for them to go. In addition, the return to the pre-set, after the actors had taken their bows, took away from the sense of an ending, and also seemed to contradict the final scene, as, visually we were led back to the beginning, with the implication that nothing had changed. This took away from the power of Simeon's decision, and left the audience without the feeling of resolution contained in the script.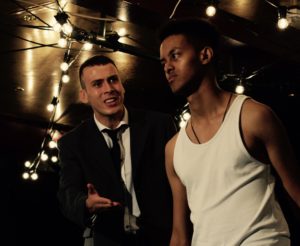 Olympilads ran a splendid 100 metres; now let's see it on a long-distance track.
Reviewed by Rebecca Crankshaw
Photography by Kathy Trevelyan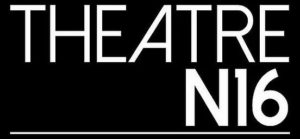 OLYMPILADS
is at Theatre N16 until 26th August