A Super Happy Story
(About Feeling Super Sad)
Pleasance Courtyard – Edinburgh Festival Fringe
Reviewed – 7th August 2017
⭐️⭐️⭐️⭐️
" …truly excellent."
A Super Happy Story (About Feeling Super Sad) demonstrates the importance of talking about depression through a performance which understands and expresses the extent to which theatre can convey these ever-urgent messages. But, most importantly, the show utterly believes in itself, what it has to say and exactly how it chooses to say, sing, and dance it.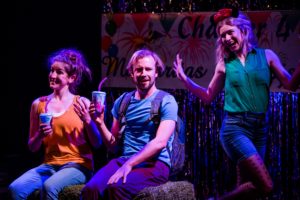 A cast of three, accompanied by live, onstage piano, engage with electric and constant energy, supporting one another as they move with precision between catchy blended harmonies with funny, touching lyrics, and simple but dynamic choreography. The show whizzes deftly through time and a multitude of settings, contained within its clever 'chapter' structure – and the audience is never not in the palm of the ensemble's capable hands.
Two of the company multi-role a series of larger than life supporting characters, signified through swift prop changes. They orbit around the focus of the piece: Sally McKenzie, whose story the show tells. Following her life from aged sixteen to twenty-six, from the past to 'right now', Sally herself guides the audience through the onset of her depression, through the relative highs and the poignantly performed lows, addressing and displaying the intense and unpredictable difficulty of the illness. The style is at once personal, confessional and gregariously caricatured, making it the perfect blend of entertainment and intimate address.
What makes this production especially brilliant is its clever and careful message, conveyed through exceptionally advanced tonal transitions, which blur crying with laughter with more sombre tears. Lighting could have been used more imaginatively to aid this, but live and recorded music nonetheless effectively and beautifully facilitate these changes of mood.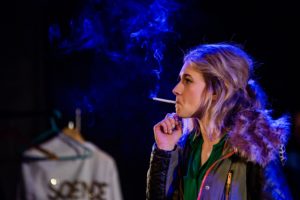 Though the title expresses two extremes, and the song and dance numbers are in an upbeat and jovial major key, the show does not offer neat solutions or resolutions, acknowledging that neither life not art can promise happy endings. At the end, Sally says she is 'not bad', and that that is good enough. This in an arresting truth; but this show, on the other hand, is neither of these things – it is truly excellent.

Reviewed by Eloïse Poulton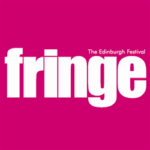 A Super Happy Story
(About Feeling Super Sad)
is at the Edinburgh Festival Fringe until 28th August