27
The Cockpit Theatre – 12th September 2016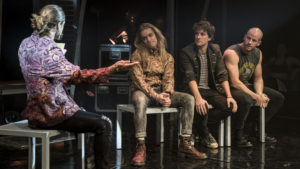 ⭐️⭐️
Ever since it was announced that Arlene Phillips would be co-directing this 'exciting new musical' I had wanted to love this show and followed its development avidly. When it was announced the superbly talented Ryan Molloy and Cassie Compton had been cast in two of the lead roles, I thought this is going to be a sure fire hit.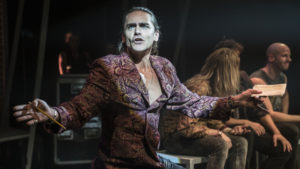 How wrong I was … Walking in to the sauna that was The Cockpit Theatre on press night (I've not scored them down for this!), and placing myself on the incredibly low and uncomfortable seating (nor this!), the first thing we see is some kind of scaffolding arrangement. This turns out to be the set. Although allegedly 'designed' I suspect the production team had some kind of deal with Travis Perkins to supply it.
But often the simplest sets belie that a truly spectacular show is about to take place, don't they? … Alas, not in this case.
As soon as the lights go down the stage is filled with an array of dancers stomping and throwing themselves about the stage (and as the night went on splashing the audience with sweat as well). It was akin to watching a mediocre end of year performance at a stage school, lots of black, lots of eyes and teeth yet failing to hide what was a very rigid dance routine.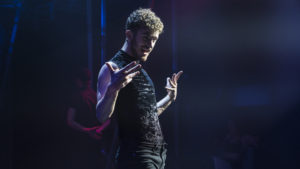 But that was only an opening dance by the ensemble, as soon as the acting starts and the big songs commence, it's going to get so much better … surely it will? You can probably guess what's coming …
The show itself is called 27 in recognition of the handful of stars who have met untimely deaths at that all too young age. The show focuses on Orpheus (Greg Oliver), 23 at the time we first meet him, but within a couple of scenes he announces "we've been in the business four years now" …  23 plus 4 … oh no … something dire must be about to happen  …
And the dire did happen. What followed was a painful mixture of the blindingly obvious plotline mixed occasionally with WTF is going on. The 'comic' lines fell flat on their face (perhaps inspired to do so by the dance routines which involved a lot of falling). The songs, with the exception of a couple, were incredibly weak and instantly forgettable.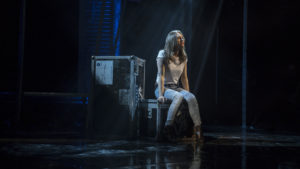 The lighting 'design' combined with the Travis Perkins set, created a vision of The Adventure Game wrestling with images of The Crystal Maze. The plot went through Greek mythology, talk show, Shakespearean … I even think I heard a poor Hamilton-esque hip hop rap at one stage (though my mind could have been playing tricks on me by then).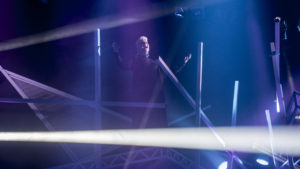 I did feel sorry for the cast, Greg Oliver was particularly good at trying to make the most of this hotch potch of clumsiness and I hope he gets a better role soon.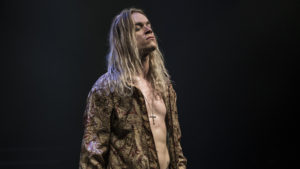 The genius behind the music and lyrics to Matilda and Groundhog Day, Tim Minchin was in the audience for Press Night. I can only imagine what he was thinking.
Very, very disappointing.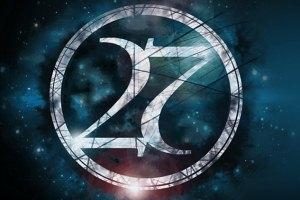 Booking until 22nd October
Photography by Nick Ross