So last weekend saw thespyinthestalls have a threesome for the first time in far too long. Accompanied by some lovely London sunny weather and followed by a warm welcome and some delicious food at Joe Allen restaurant, this was an exciting if somewhat hectic couple of days.
The threesome in question was a trio of musical theatre. All quite different experiences . . .
Aladdin
Disney's Aladdin, based on their animated film, opened to a fanfare of anticipation in the West End after a couple of years on Broadway.
The best way to describe it is, "It's very 'Disney'" . . . Let me be clear, there is nothing wrong with the production itself if you are expecting to see a 'real life' version of a cartoon. There's loads of colour, costumes and comedy. Some catchy tunes (though some are instantly forgettable), and one or two amazing routines and special effects. For me though, it wasn't consistant and my expectations of amazing scenery and magical effects weren't quite met (possibly as I'd recently been blown away by a certain Harry Potter play).
The cast are great with Dean John-Wilson taking the lead role, Broadway's Trevor Dion Nicholas as the Genie and Jade Ewen as Jasmine. It has to be said that the Genie is by far the strongest character in the show, getting the biggest laughs and having the audience in the palm of his hands.
A large supporting cast of strong dancers and singers (as you'd expect!), bring the show alive (and distract the eye from some of the less impressive sets). Special mention to Irvine Iqbal as the Sultan and Don Gallagher as the evil Jafar; plus an extra special well done to ensemble member Daniel de Bourg who at the last minute mean his debut standing in as Kassim – a spotless performance from Daniel (still loving the hidden tattoos).
In terms of rating the show – if you are looking for a fun yet predictable storyline and some Disney pazazz to while away a couple of hours you'll be hugely satisfied and walk away thinking 'five stars' . . . If however you're looking a bit deeper (and been spoilt by Harry Potter), it's more like a 'three and a half stars' show. Absolutely nothing wrong with it at all, but there are more impressive shows.
The Bodyguard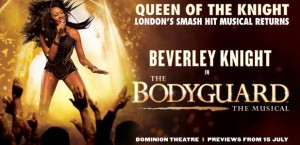 Having opened in the West End in 2012 then toured and now returning to the Dominion Theatre until January 2017, The Bodyguard has been a successful adaptation of the 1992 film. The plot near enough follows the film, music superstar Rachel Marron (Beverley Knight) becomes the target of a stalker (Matthew Stathers). Much to her annoyance, a bodyguard, Frank Farmer (Ben Richards) is taken on to watch over her. After a while she falls for him just as things start to take a sinister turn.
There were few things to write home about in terms of the set. All pretty basic, but totally adequate for the show, which if we're completely honest is really a Whitney Houston jukebox musical with a pleasant enough romantic thriller storyline thrown in. As expected the selling point of this show is the music; Rachel Marron is played by the current doyenne of musical theatre, Beverley Knight, who has surely one of the UK's finest voices. Her range and supreme power will send tingles down your spine.
Ben Richards makes a suitably handsome level-headed Frank and Rachel John (who previously replaced Knight in the lead role in Memphis), impresses as the often overlooked sister. John, like Knight, has an amazing voice which we fortunately get to hear a couple of times. Matthew Stathers as the stalker is suitably sinister throughout.
A special extra mention to some audience members who may not be fully aware of theatre etiquette – to the gentleman who let his phone let out a roar each time his team scored a goal (fortunately only twice), "Which part of turn your phone off do you not understand?" and to the lady with the Starburst (Opal Fruits as we still like to call them), please do not wait til quiet scenes to rustle in your paper bag, take out one sweet, slowly and noisily unwrap it, then noisily wrap the paper up (repeat this process til all sweets are consumed) – It's really really annoying!.
Other than audience distractions,  enjoyable entertainment, but the show is all about the music. Five stars for Miss Knight, three and a half for the show.
Jesus Christ Superstar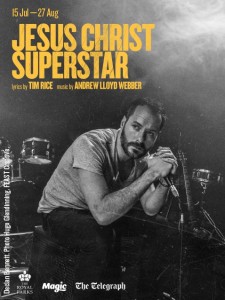 Thankfully, the weather was kind for the last of the threesome, Rice & Webber's classic Jesus Christ Superstar being performed at Regent's Park Open Air Theatre. This new adaptation marks 45 years since the original.
A simple yet powerful set comprising of two, two storey iron girder frames (the band occupying the top part), plus a huge cross laying across the stage. The cast, a youthful energetic bunch, enter from the auditorium and we're immediately presented with Drew McOnie's amazing choreography, one of the many delights of this impressive show.
Really interesting interpretations of many scenes, lashes replaced by handfuls of glitter, pieces of silver by paint, to name just a few. The action is non stop, every inch of space is used in a perfect fusion of dance, song and light (as dusk falls, the power of the piece becomes even greater).
Declan Bennett leads as Jesus with a moving and truly believable performance. Fantastic vocals from Tyrone Huntley (formerly Memphis, soon to be in Dreamgirls) as Judas and Anoushka Lucas as Mary (who had the lady next to me in tears).
The two short acts are over far too quickly and you're left wanting to come back for more. One of the best pieces of theatre I've seen in a long time. Five stars.