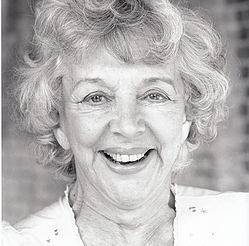 Theatre legend
Thelma Ruby
to grace the stage at
The King's Head Theatre
with her one-woman show
Thelma Ruby is no ordinary 91 year old. With over 60 years spent on stage, treading the boards with the likes of Orson Welles, Dame Judi Dench, Chaim Topol and many more, this luminary entertainer is sure to surprise and delight audiences with her return to the King's Head Theatre on Valentine's Day.
An evening of songs, sketches, dance and dazzling entertainment, Thelma Ruby's one-woman show 'That's Entertainment' tells the story of her remarkable life in the spotlight, with tales to make you laugh, cry and hide behind your hands.
Thelma says:
'It's delightful to be celebrating Valentine's Day at the King's Head Theatre. When they first asked me to perform my one-woman show last summer, little did I know I'd be playing to packed out houses and that they were going to ask me back! It's turned out to be one of the loveliest jobs of my career.'
Superstar Thelma was born in Leeds in 1926 and trained as an actress in New York during World War Two. From entertaining wounded troops in hospitals in wartime to starring in Chimes at Midnight with Orson Welles, she has lived a glittering life on and off stage and for one night only is returning to The King's Head to recount her tales. This will be one Valentine's Day you won't forget in a hurry.
---
Listing
Thelma Ruby
14 February 2017
The King's Head Theatre
115 Upper Street, London N1 1QN
Tickets £15 – £19.50
Box Office:
0207 226 8561