THE WASP
Jermyn Street Theatre
Reviewed – 1st August 2017
⭐️⭐️
"tension was sorely lacking, and the play's violent denouement was a damp squib

Jermyn Street Theatre is a little gem of a venue a stone's throw from Piccadilly Circus. It was great to see a sold-out house for the opening night of The Wasp, and the quality set design on display (excellent work by Mike Leopold) promised an evening's theatre to match. For this reviewer, alas, that promise was not fulfilled.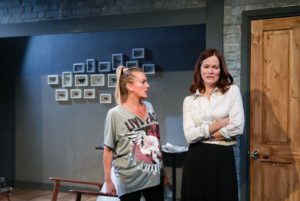 The Wasp by Morgan Lloyd Malcolm is a two-handed thriller, in which a pair of estranged school friends meet as adults, and a train of events is set in motion fuelled by a couple of violent incidents in their shared past. This is a tried-and-tested formula, and despite one genuinely surprising plot twist, formulaic is how the writing felt. The monologues felt like set pieces, and the dialogue was often over-explanatory; there was never enough work for the audience to do. This was particularly true in the exposition of the play's central symbolic image – the parasitic tarantula hawk moth – but equally present in the women's conversation. 'It looks like we're more like each other than we thought then, eh?' Carla says at one point. There's more fun for the audience in seeing that for itself.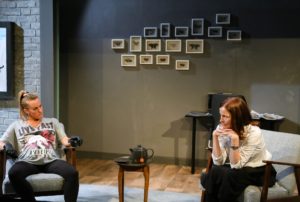 Similarly, the characters themselves rarely strayed beyond stereotype. From the moment we meet them – Carla, all fake tan and gold, heavily pregnant and smoking a fag, and Heather, dressed from the Browns catalogue and drinking a camomile tea – the two women remain trapped in the tropes of their class background. Lisa Gorgin (Carla) and Selina Giles (Heather) worked well together, and there was some lovely detail in each performance, but despite the emotional reveal at the play's heart, there was little scope for them to go beyond the skin-deep. As a result, tension was sorely lacking, and the play's violent denouement was a damp squib. On-stage violence is frequently difficult to pull off, and the play needed stronger directorial decisions here, to enable credibility in such an intimate space.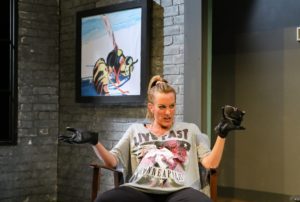 It would have been interesting to see where Anna Simpson (Director) could have taken us with less naturalistic emphasis. There was a nod to a slightly more abstract theatrical language in the transition between Scene 1 and 2, but it didn't go far enough, and, as a result, what could have been an eerie interlude came across as as a slightly clumsy scene change. The trouble with naturalism is that it is easy to set situations up for a fall; I, for one, have never known a heavily pregnant woman last so long without needing a pee, and we all know what a mess knives make.
In a world saturated with (often excellent) television thrillers, the theatre can only hold its own by drawing on its strengths. The Wasp failed to deliver on these, and thus was devoid of sting.
Photography by Andreas Grieger
THE WASP
is at Jermyn Street Theatre until 12th August