Osmo
Southwark Playhouse
Reviewed – 3rd October 2017
⭐️⭐️⭐️ 1/2
"I became mesmerised by the expressive shapes his body created"  
Osmo is part of the CASA Latin American Theatre Festival that brings plays from the southern continent to our shores. Now in it's tenth year, it has been running since the start of September 

at the Arcola Theatre and Southwark Playhouse 

and continues to the end of this month.
Dancing and murder are explored in this unusual play set on a bare stage, with Osmo himself (Donizeti Mazonas) bathing in a transparent rectangular bath. The lighting 

(Hernandes de Oliveira) 

ebbed and flowed over Osmo's watery home as he flitted between his often nonsensical thoughts. It reflected the intensity of his presence on stage as well as the twisted plot.
With Osmo being the main focus for the audience, the other character in the piece (played by Érica Knapp) is not forgotten. Subtle changes in lighting  drew our attention over to her, just as Osmo's violent splashing and open display of his genitals drew us back to him.
This two person performance is at times an uncomfortable watch. Osmo is entirely naked in his bath, but you quickly move past this. It is his manic smiles, hysterical laughter and piercing stares that provoke unease.
As an English speaking audience member watching a Brazilian performance, the piece (directed and adapted by 

Susan Damascenco) 

worked well despite the language barrier. I became mesmerised by the expressive shapes his body created in the clear cube before us and focused less on the projected translation as the piece progressed.
Unfortunately a technical error let the piece down when the projection offering the subtitles failed, and the English speaking audience lost track of the plot. Furthermore, the projection seemed to lag behind the on stage action at points, and often sentences were skipped over very quickly meaning some loss of coherence. Because of this I award 3.5* instead of what would have been a solid 4* for this totally unique theatrical experience.
Reviewed by Lucy Marsh
Photography by Keiny Andrade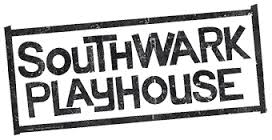 OSMO
is at Southwark Playhouse until 7th October as part of CASA Latin American Theatre Festival