Bluebird
The Space
Reviewed – 25th July 2018
★★★★
"viscerally funny, and celebratory too; a love affair with language, with London, and with the messiness of being human"
There couldn't be a more apt time for The Space to stage Simon Stephens' 2012 play, Bluebird – the action of which takes place over the course of a sweltering summer night in London. The stifling heat at the moment, together with the proximity of the actors in The Space's intimate playing area, made us feel, as audience members, that we were truly sharing the night with the characters, in a way that only added to the emotional intensity of the evening.
The play revolves around Jimmy, a Mancunian writer turned cab driver. Simon Stephens sees that the cab driver takes on the role of confessor in the secular world of contemporary Britain, and as Jimmy criss-crosses London in his Nissan Bluebird, his fares divulge the secrets of their lives, and, each in their own way, struggle to make sense of the business of living. 'Do you have any idea what it means – at all?' asks fare number two, a genial joker with a beer in his hand; a question that resonates throughout, and is at its most unbearably poignant in relation to the central tragedy of Jimmy's own life.
Although the play deals with irreparable loss, grief, and the immense and powerful everyday drama of the relationship between parent and child – recurrent Stephens themes all – it is also viscerally funny, and celebratory too; a love affair with language, with London, and with the messiness of being human.
The Space's production – directed by Adam Hemming with a sure hand and a light touch – rightly keeps the language centre stage, and maximises the strengths of an immensely able cast, in order to create a powerful, funny and genuinely moving evening. A few of the transition sequences were a little clumsy, and a couple of performances required greater vocal control – with writing this good, you really don't want to miss a word! – but these were tiny niggles in the face of some exceptionally good acting. Terrific, tight, well-observed and connected work from Jonathan Keane as Jimmy, Mike Duran as Robert and Adam Scott-Pringle as Richard, as well as a wonderfully warm and true performance from Felicity Walsh as Angela. Special mention must go, however, to Anna Doolan, for her heartbreaking portrayal of Jimmy's wife Clare. It was an exceptional performance, and this reviewer wasn't the only audience member to find herself in need of a hanky.
Reviewed by Rebecca Crankshaw
Photography courtesy Space Productions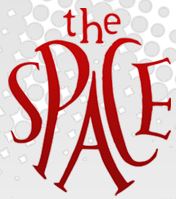 Bluebird
The Space until 4th August