Undetectable
King's Head Theatre
Reviewed – 15th March 2019
★★★★
"a very watchable piece of theatre that is intimate in exploring its far-reaching topics"
Three months into their relationship, Bradley and Lex are ready to christen it. However, there's more than just first-time jitters getting in the way. Romance, intimacy and identity cook from the inside out in Tom Wright's well-written comedy about our baggage in the bedroom.

Not to give too much away but the storytelling is full of treats. Even though there aren't any twists per se, every plot point, from whose bedroom we're in to whose life's at threat are threaded subtlety into Bradley and Lex's back-and-forth.
Lex and Bradley, at times, evoke the same affection you have towards Louis and Prior's in Kushner's Angels in America, and I do not say that lightly. Both pairs, are intelligent gay men who know all too well the strains and threats on their community but are in disagreement on how, or if, they should take arms against the issues. And like Angels, Undetectable is unmistakably made for the stage.
Wright leavens the conflicted morals of his play through some very funny dialogue. Whilst shrewd and well observed, this showed his skill at turning phrases and pacing punchlines, more than it did his strength at giving unique voices to his characters. Perhaps it wasn't his aim, because his choices ultimately work to the play's credit; helped in no small part by two towering performances from Lewis Brown and Freddie Hogan.
Director Rikki Beadle-Blair MBE and the players have brought to life a vivid tapestry of labels, masks and brave-faces. The moments of roleplay between the lovers are utterly enthralling to watch exploring the theatre in lovemaking itself, through a play-within-a-play dynamic that all at once amuses and, quite frankly, creeps you out (especially during a teacher-student fantasy). Brown and Hogan take on their parts with nerves of steel, not once missing a beat in a physically gruelling and exposing performance.
In a play like this, a pinhole in any of these elements sinks the ship completely. And whilst there aren't any holes in Undetectable, there are a few open windows. There's a distinct lack of stakes between Lex and Bradley. Once the roles are established, the play spins out entirely predictably. A switch in style in the final third was welcomed, and well executed, but didn't shift from the fact that despite many threats of walk-outs, we knew it would be happily ever after. Perhaps it's because certain emotional junctures aren't given space to breathe. At one point Bradley emotively talks about what the spectre of a positive HIV diagnosis can do to the mind, in one of the play's finest moments, but is undercut by Lex talking about his drug uses. Moments like these were rushed and could have done with more unpacking. A little quiet would have gone a long way.
Despite this, Wright has created a wonderful romantic relationship and Beadle-Blair has crafted a very watchable piece of theatre that is intimate in exploring its far-reaching topics.
Reviewed by Paul Pinney
Photography by Nick Rutter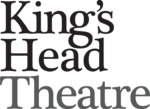 Undetectable
King's Head Theatre until 6th April
Last ten shows reviewed at this venue: