Bird

The Cockpit Theatre
Reviewed – 14th September 2020
★★
"an ambitious piece that, in this version at any rate, does not live up to billing"
BIRD, with music by Loré Lixenberg, is produced by the Voice Party as part of a socially distanced live performance series at the Cockpit Theatre. But if you are in quarantine, don't worry. The 2020 Tête à Tête Opera Festival at the Cockpit Theatre is also offering an interactive broadcasts online, with the added bonus of "meeting" with the artists afterwards to ask questions and share thoughts.
BIRD is billed as a "post-shamanic work uniting comedy, ritual, and song". Artist Lixenberg, known for her work as a mezzo soprano specializing in experimental work, greets the audience on stage from behind a desk with a computer, and microphones. Behind her is a large screen. Apologetic because this pandemic version is unable to offer a group of dancers and musicians live on stage to complement the images of birds on screen, and describing BIRD as a work in progress, Lixenberg begins the performance. A video flickers on screen. With a whispered voice over, Lixenberg informs us that we are on a hunt for birds in a forest. The camera is hand held and shaky, and it shakes more as the camera person encounters the first "bird". The bird, is of course, a human imitating bird calls, and later, bird movements. The comic elements of BIRD become apparent as the bird notices the camera, and instead of being frightened away, picks up a stick and rushes aggressively towards it.
The rest of this forty minute show is a mashup of more actor dancers imitating birds in a variety of environments, spliced with film of real birds. Robins, ostriches, blackbirds, starlings—all doing their thing accompanied by Lixenberg's whispered commentary. For Lixenberg, the attraction to her subject matter is more than just an ability to sing. Claiming that birds actually have more in common with humans than apes, she lays out her thesis with some compelling evidence. But for all this academic seriousness, Lixenberg's sense of irony and playfulness is never far away. We get hints of this with the cartoon images of birds that flash on screen between the videos of birds and humans acting as birds. But the irony blossoms into full blown awareness as Lixenberg herself begins to sing birdsong. In the resultant cacophonous competition with a robin redbreast, it is hard to tell who wins, as the screen freezes and distorts, and the noise on and off stage intensifies. In the final moments of BIRD, we see a dancer running and swooping off in the distance, accompanied by silence.
BIRD is an ambitious piece that, in this version at any rate, does not live up to billing, sadly. Nevertheless, Lixenberg's work is thought provoking, and hopefully she will continue to work on this piece in less challenging circumstances.
Reviewed by Dominica Plummer
Photography by Claire Shovelton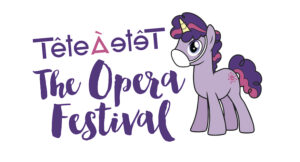 Bird
The Cockpit Theatre as part of Tête à Tête Opera Festival 2020 also available online
Previously reviewed by Dominica: