We've been lucky enough to catch up with one of the stars of multi award-winning musical In the Heights. Here's what Lily Frazer had to say to us about life on and off set of one of London's most vibrant theatrical experiences.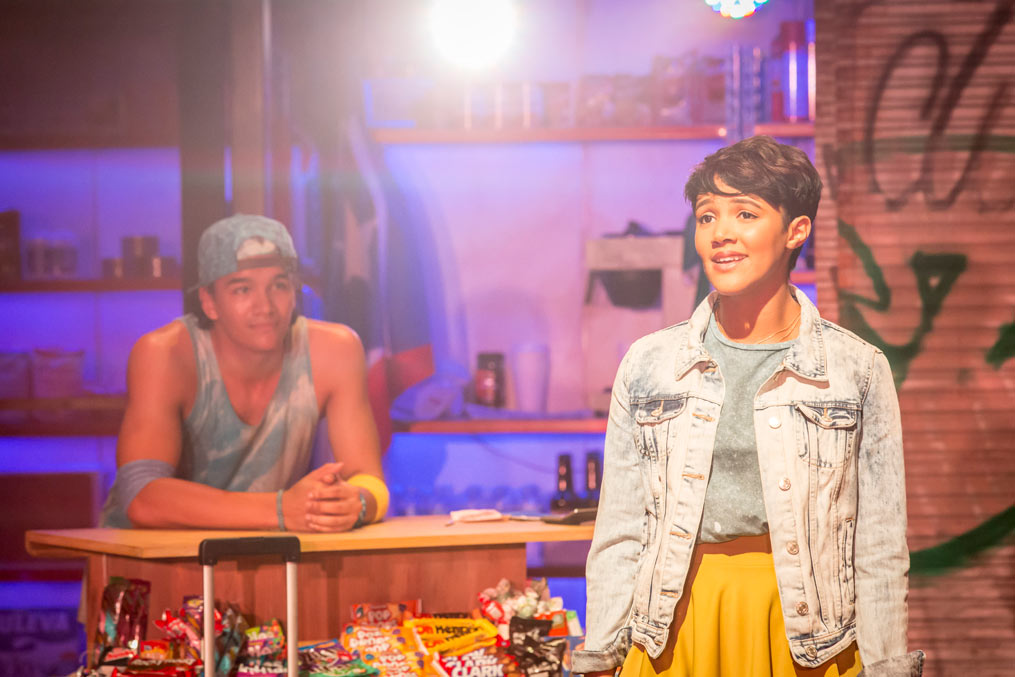 In the Heights was only supposed to run for four weeks, has it surprised you that it's been so successful and now booking up to its year anniversary?
It's such a wonderful surprise! I knew that the show was fantastic but unfortunately that doesn't always sell tickets. A lot of great shows close early or don't run for as long as they're supposed to. So I'm extremely proud of how well it's done! I have so much love for this show and everyone has worked so hard to get it to this point.
Did you speak any Spanish before In the Heights, if not, how did you cope learning those lines and lyrics?
Nope and I'll tell you something I was terrible at languages in school. I was always quite good at the accent but couldn't tell you what the hell I was saying! So yes learning Spanish was really difficult at first. But we had a wonderful coach who came into rehearsals to help us with Spanish. Also we have an 'in house' coach called Gabby Garcia who is from Mexico so whenever she can hear my pronunciation slipping she pulls me up on it straight away so I'm very lucky. She keeps us all in check.
The Oliviers was a great night for the In the Heights team, how does it make you feel to be a part of a multi award winning show?
It was such a magical evening. So many tears of joy. I know that we were all just so thrilled to be nominated and then so overjoyed when we went and won three out of the four awards we were nominated for which was fantastic! It feels even more wonderful for a show like In the Heights to win because I know how far it's come since it started out in the Southwark Playhouse and how hard people have worked to get it where it is now. I'm also especially proud of my good friend David Bedella. I applauded till my hands hurt when he won. (David Bedella plays Kevin, and won the Olivier for Best Supporting Actor in a Musical)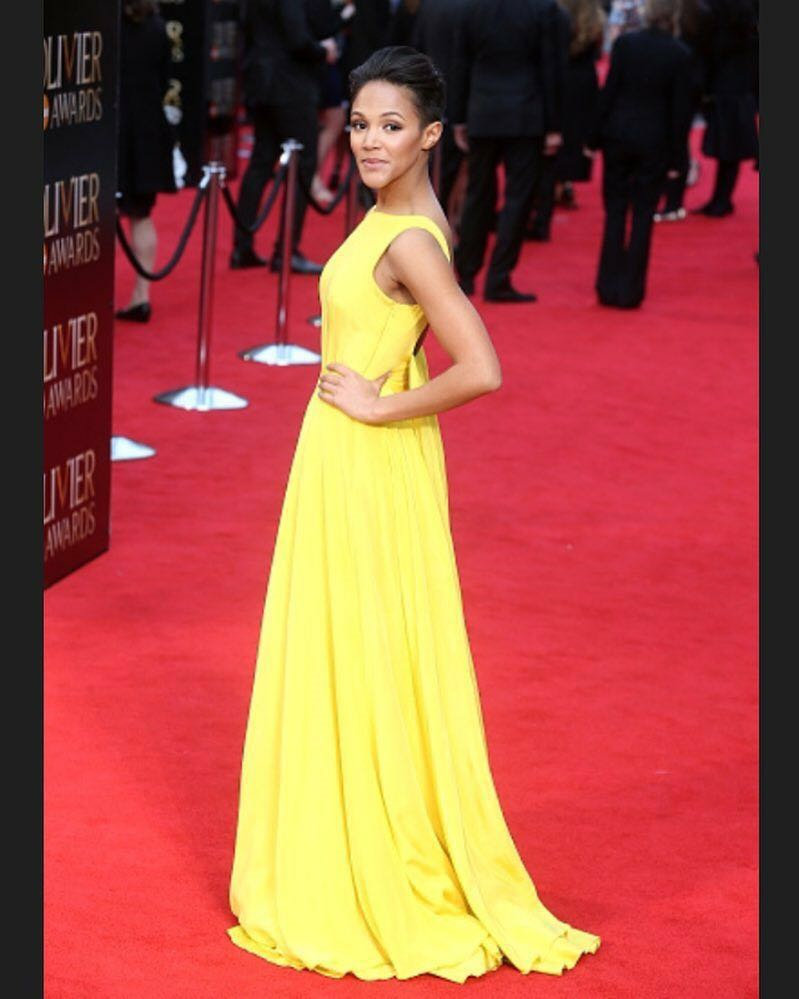 What's your favourite song from In the Heights (yours or any other character) and what's your favourite theatrical song of all time?
When I first heard soundtrack for 'In the Heights' I was obsessed with 'When the Sun Goes Down'. And I love singing 'When You're Home' with Joe Aaron Reid (Benny). He makes my job so easy! And my favourite theatrical song of all time … now this is really stagey, but I have a really special place in my heart for 'Don't Rain on My Parade' from Funny Girl. It meant a lot to me when I first learnt it in college and it reminds me of working hard and not letting anyone tell you that you can't do something. Whenever I feel as if someone has knocked my confidence I can listen to this song and feel instantly strong. Makes me cry nearly every time I hear it.
The Kings Cross Theatre is quite unconventional in its layout, as a performer has this posed any additional challenges for you?
The Kings Cross Theatre is a really unique and modern space which is what I believe drew our producers and creatives to the venue in the first place. The stage is in traverse which, if anyone doesn't know, means the audience are sat on both sides of the stage. This did take some getting used to because I think most of the cast were used to traditional staging. Naturally you want to play everything to one side at first. But now it's feels like second nature and in some was makes a scene more natural.
The In the Heights cast put in a lot of extra hours – West End Christmas, a performance at the Theatre Café etc., – are you the hardest working company in London and do you enjoy the variety of the extra work?
(Laughs) Well I think when you do any theatre job the fun doesn't stop at the theatre. There's usually always press and concerts and other things to get involved in. So I don't think we can call ourselves the hardest working company but I can say that everyone at In the Heights works their butts off every day! Very proud of our familia.
There have been a few cast changes in the run so far, how does it feel when someone you've worked with for a while leaves, and how easy is it to work with someone new in the role?
Despite it being part of the job it's never easy because it's sad to say goodbye to people. It also makes it especially hard when it happens abruptly so you feel you didn't get a chance to say goodbye. But saying that it's nice to meet new people and everyone brings something different to the roles they take on which is really refreshing as a fellow actor.
With 8 shows a week, what do you do in your spare time to relax?
Rest a lot! Lots of early nights. After a show I'll usually do a vocal cool down which is basically a series of vocal exercises to help my vocal muscles relax and reset after such a big sing. The show finishes quite late and I'm usually still thinking about the show and analysing little bits afterwards so I usually need to watch an episode of something on TV to help try to switch off and relax. An episode of 'Friends' really chills me out. But in my spare time if I want to relax I'll probably go watch a movie, meet up with friends and family. Or go and catch a piece of theatre I've been meaning to see. I see a lot of Wednesday matinees. I might go to the gym with my gym buddy Melissa James or go for a vocal massage or vocal manipulation which is basically a massage for my vocal muscles. But sometimes it's nice to do absolutely nothing! Dolce far niente! (Laughs) 

photos – Gabriel Mokake
www.gabrielmokakephotography.com
What was the last live theatre production you managed to see, and are there any current shows you would like to see?
The last show I saw was Funny Girl. Such a great show! Do go and see it. And before that it was As You Like It at the National which blew my mind! I'm looking forward to seeing a musical called '27' which comes to the Cockpit Theatre in September I believe. I saw the workshop and it was really exciting! But in terms of current shows I'm really keen to see People Places and Things! I've heard that's incredible.
When did you first realise you wanted to be an actress?
I think I always knew I wanted to do something in theatre. I was never a shy child. My nan sent me to an audition for an amateur production of South Pacific when I was about 8 and I was hooked and that's when it all began really. But I think it was only when I was in my first year at ArtsEd that it really hit home this I was going to be what I did for a living one day and that my dream could actually come true. I think if I didn't do this anymore, I'd really like to be a vocal coach.
Given the chance, what role in any production would you most like to play?
I tend not to answer this question because then I get my heart set on playing a role and I work myself up so much that if it doesn't happen I'm left heart broken. I'd really like to originate a role. That's one goal of mine.
Would you take a role in Lin-Manuel Miranda's latest hit, Hamilton, when it arrives in London?
It's really funny because I get asked this question a lot and I think people looking in at an actor's life think that we can pick and choose what roles we take. Unfortunately for people like me it's not that easy. Unless you're super famous and fabulous and have the profile to pick you roles you take. I'm looking forward to possibly being able to audition and then it's out of my hands. I think every actor in the West End would love to be considered for Hamilton.
You have a part in the new Disney Beauty and the Beast film coming out next year, do you prefer film or stage acting?
The part is tiny but it was epic and so fun to film. So I'm really excited for that to come out. I think if I only did straight acting I'd miss singing but I like I do enjoy filming and would love to do more of it. The thing about film though is that once it's filmed it's done, it's out there and you have no time to perfect it or make different choices which is hard. In theatre you can let the role breathe and evolve.
Finally, back to In the Heights, any funny stories you can share?
When people have a 'brain fart' on stage and basically forget their words and have to make something random up on the spot. When it happened in the middle of the song it's comedy gold. Doesn't happen very often though. Live Theatre ladies and gentleman. Our theatre is behind Kings Cross station so we hear quite a few comedy train horns coming from the station from time to time, usually at the most inappropriate moments.

Spoiler alert but there's a scene where there's a blackout in the barrio and as soon as the lights go off at the end of The Club it's my job to grab three prop phones for myself, Yolanda (Gabby) and Vanessa (Christine) in complete darkness. Usually this runs very smoothly however one time instead of reaching for the phone in my hand Gabriella Garcia reaches out and grabs my boob instead! She says it was 'by accident' but I think she was just trying to cop a feel. Joe Aaron Reid (Benny) and I have a lot of scenes where we're gazing into each other's eyes so if one of us happens to sing a bum note or a little vocal 'scooby' as I call it, then sometimes, especially if we're delirious at the end of a week it takes us every last bit of strength we have not to giggle!

I can't think of anymore but there's always something funny going on in the building. Especially in the girls dressing room! Lots of giggles and good times!
Lily, thank you so much for talking to us today.
'In The Heights' is at The Kings Cross Theatre. Booking until 30th October 2016.