The House on Haunted Hill
Leicester Square Theatre
Reviewed – 2nd November 2017
⭐️⭐️⭐️⭐️
"a brilliantly bizarre production with constant laughs throughout"
How do I even begin to go about briefly describing House on Haunted Hill? This production was based on the 1959 film starring Vincent Price where an eccentric millionaire offers four strangers $10,000 if they last the night at his Haunted House Party. The Lampoons have taken this and put their own delightful twists in by incorporating their own material. This is a brilliantly bizarre production with constant laughs throughout.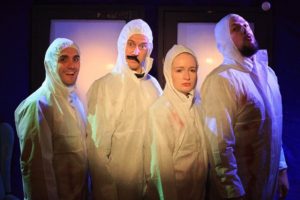 From the very moment of walking into the venue the audience were included in the action. Members of the cast in those protective suits that people at crime scenes wear, hand out programmes and ping pong balls. We're told that we'll "need those later" and we'll "know what to do." It creates an odd humorous yet mysterious atmosphere that remains for the entire performance.
Part of the production's greatness lies in the strength of the cast. Josh Harvey and Adam Elliott are particularly strong as Lance Schroeder and Dr David Trent respectively. Elliot's Southern drawl is enough on its own to raise a laugh. The whole cast are magnificent as Vincent Price. It's lovely to witness a group of people having so much fun onstage together. There was a moment where they all broke character and it felt like we were part of the joke with them.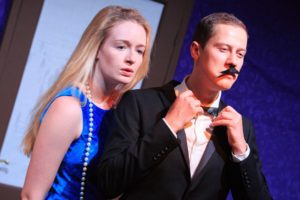 The set was low budget but they played on that and it actually managed to add even more to the comedy of the piece. Some of the stranger moments of this production are extraordinary examples of surreal humour in action. One of the highlights is the Balaklava Ballet Band which is probably one of the oddest couple of minutes you will ever spend in a theatre. The use of songs (from an original score by Mote Keatinge) scattered throughout the piece added a whole new layer of comedic value.
A couple of jokes fell a little flat, especially those concerning Lance Schroeder's attempts at wooing. Despite this, House on Haunted Hill is an hilarious homage to classic horror films and Vincent Price. The audience started laughing as soon as they walked in and didn't stop until they left.
Reviewed by Katie Douglas
Photography by Headshot Toby

THE HOUSE ON HAUNTED HILL
is at Leicester Square Theatre until 11th November