Leading Light
Theatre Collective
Interviewed – April 2020
Hi Belinda and Hannah, thank you so much for answering our questions today. Why not start by telling us a little bit about yourselves?
Hi – thank you for having us!
[Belinda Clarke – Artistic Director] I studied BA Acting at Bath Spa University, I'm now doing an MA in Creative Producing at Mountview Academy. As Artistic Director of Leading Light Collective; I have acted, written, directed and produced! After writing Memories We Lost in the Fire (2017-18) I received the award for Best New Writing at the International Dublin Gay Theatre Festival. Since then I have mainly focused on my love for directing and facilitation at venues such as Arcola and The Pleasance Theatre. Next, I will be individually producing events such as Hollablack Girl and Posters by Tanya Loretta Dee and finally will be directing Leading Light Collective's 4 (2020).
[Hannah Blair – Lead Producer] I studied BA Theatre Production and MA Creative Producing at Bath Spa University. I am the Lead Producer for the company on work such as Network and Chill (2020) and Memories We Lost in the Fire (2017-18). Alongside Leading Light Collective, I have produced Purely Platonic (2019), which was performed in Bath's SparkFest. My other theatre credits include; Stage Manager for Commotion in the Ocean (2018/19), and Dresser for This House (2019), The Lion, the Witch and the Wardrobe (2017/18) and North by Northwest (2017).
When did you form Leading Light and what made you want to start a theatre collective together?
[Belinda] We formed the collective during our third year at Bath Spa University, February 2017. Wanting to create a platform bigger than ourselves as individuals, which connected a range of communities together through theatre. We repeatedly asked ourselves – why wait for opportunities, when we can create them?
Belinda, you initially trained as an actor at Bath Spa University but you've since focused more on writing, directing, and producing. What made you move away from acting, and was that a difficult transition?
[Belinda] When we begin our careers as creatives, the majority of us can only see it as an acting career. We never really understand what the hell writing, directing and producing can bring for us internally, until we are thrown into them. Our industry is built up into so many amazing sectors – why not explore them all before deciding? The only difficulty I had within this transition was knowing that I loved being behind the scenes more than in them.
Despite the two of you being the creative forces of Leading Light, you've spent a lot of time since graduating three years ago living in different cities. Has that been a challenge in operating the collective as effectively as you'd like?
[Hannah] Definitely not. As much as we would have loved living close straight after uni, other things like expenses and routine come into play, which gave us more time to evaluate Leading Light. We pretty much got a healthy work routine down whilst still saving productively, which gave us time to create an amazing tour for our first production, Memories We Lost in the Fire. FaceTime and Google Docs became a big part of our Leading Light family.
Last year, you formed a sister company, Excellence. What was the purpose of this, and what differentiates it from Leading Light?
[Belinda] We connected with the incredible Aaliyah Deanne last year who wanted to create more opportunities for new black creatives entering the industry. Excellence has given us an amazing scratch night, DEAR BLACK PEOPLE, specifically tailored to the black community in association with Pleasance Theatre Futures. We've focused a lot more on black writers during our first year active, supporting them to get their idea from page to stage. In the words of Stormzy: 'that's not anti white it's pro black', ha!
What kind of challenges does managing two companies at once present?
[Hannah] The biggest challenge I think anyone in our industry can relate to is time management. Making sure that your side hustle allows time for the art, while maintaining confidence within the work you are creating. Luckily with strong partners we are able to do them both, but it never comes without a clash. But hey ho, why have one when you can have both?
What were you up to before the theatre shutdown?
[Belinda] I don't think we should say shutdown, theatre has been transformed to be accessed through different mediums. But unfortunately this did come with setbacks to some of our other projects. We had just introduced our new program ILLUMINATE YOUR CONFIDENCE with schools within Hounslow Borough with the support of the council. As well as other workshops designed to create our upcoming production, 4 which will be now coming later on in the year – depending on the pandemic that is…
Excellence also had setbacks with our next DEAR BLACK PEOPLE scratch night in May at The Pleasance Theatre being postponed, EMPHASIS ON POSTPONED!
How have you been coping with this new existence of social distancing and staying indoors?
[Hannah] Routine, routine, routine! Belinda is completing her MA and I am using this time back in York to spend with family before getting back to London. It has not been easy so far for anyone but all we can do is evaluate, look after ourselves and wait!
What's your top tip for other creatives struggling with quarantine life?
[Hannah] Use this time to do the things you didn't ever have time for. As creatives we all have ideas of plays we want to write or projects we want to do but never have the time. So now is the time to do the research – get writing!
[Belinda] Get talking to creatives. Expand your contact list. And check in with yourself on the regular.
What's the first thing you're going to do once the lockdown is lifted and we're allowed outdoors again?
[Belinda] See each other! We're having withdrawals already.
What's next for Leading Light and Excellence? What are you hoping to achieve with both companies over the next year or so (assuming the world is moving again by then)?
[Hannah] A whole new business model for both companies that we cannot wait for you all to see! 2020 was and still is our year to develop our company and individual skills.
Finally, this year marks three years since you finished at Bath Spa – what advice would you give to yourself three years ago?
[Hannah] Keep going and keep communicating. It is important to keep persevering because the hard work always pays off.
[Belinda] Trust that time has no limit and there will be moments when it feels hard, but this is what we love. Confidence is a journey, not an overnight mindset.
Thank you for taking the time to answer our questions – stay safe and keep washing your hands!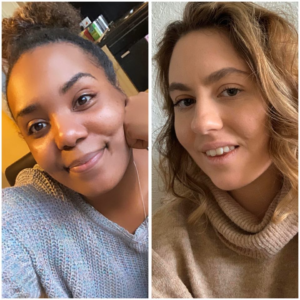 Interviewed by Ryan Mellish
Photography (other than isolation selfies) by  Xanthus Peters
Find out more about Leading Light here: