In My Own Footsteps (A Memoir)
by Michael Pennington
This book is published on 24th June 2021
★★★★★
"we are invited to immerse ourselves in an intimate and vivid account of his varied experiences"
In My Own Footsteps is veteran actor Michael Pennington's latest book, and fans of his work will enjoy this hefty yet entertaining read. It's an autobiography, and, like all good actor autobiographies, is both gossipy and insightful. Pennington has been a significant participant in, and witness to, some of the best theatre and television drama in the last fifty years, so this record will be of great interest to historians as well.
Historical seriousness aside, Pennington's title refers to that well known fact of an actor's life—that you often begin with one part, or one play, and find yourself circling back to it several times during the course of your career. Pennington's big break was the part of Troilus while still a student at Cambridge. It got him into the Royal Shakespeare Company in 1964, and after paying his dues as various spear carriers, and learning a lot of craft from observing the greats sharing the stage with him, Pennington returned to Troilus and Cressida again in the 1970s. Pennington is characteristically modest and funny about this, but making your mark in Troilus and Cressida—one of Shakespeare's most difficult plays to bring off successfully—is no mean feat.
In My Own Foosteps treats the reader to chapters that are organized not by date but by theme. Most of these themes are directly relevant to the theatre (or television), but sometimes not. The book begins with cricket, and family. In Pennington's world the two are always connected, and it's a great jumping off point for an autobiography that the actor himself describes as "a patched up story of an unfinished life, not told in strict sequence, but depending on a series of adventitious cues". The chapter on cricket is followed, for example, not by his early years at the RSC, as one might expect, but a jump forward in time to the 1970s and the Royal Court Theatre in its counter culture phase. Pennington took part in the beginnings of the Theatre Upstairs, playing American characters in Michael Smith's off-Broadway play Captain Jack's Revenge.
Pennington's writing style includes an acute eye for the details of an actor's craft that many theatre writers miss. His descriptions simultaneously illuminate and demystify it in memorable ways. Much of In My Own Footsteps is devoted to accounts of his own experience of acting, but just as fascinating are the details of watching the craft of Paul Scofield, Peggy Ashcroft and Alan Howard, to name just a few. And not just on the stage, but while waiting in the wings to go on, or relaxing in the green room. Since Pennington's own career spans a golden age of acting at the RSC in both Stratford and London, as well as television drama, many readers may find these accounts the most interesting. But it would be a mistake not to linger on the chapters that describe his time at Cambridge, where he crafted his own actor training course despite the best efforts of his college to teach him about English literature, and on those chapters describing his work after his years at the RSC. Pennington also has a knack for encountering figures of historical importance at significant times in their lives. His account of working with Romanian actor Ion Caramitru (later Minister of Culture in Romania after the fall of Ceausescu) and the part Hamlet played in ending that regime is a wonderful story that illustrates yet again how putting on great theatre can be a revolutionary act.
In My Own Footsteps is not Pennington's first book, and this autobiography is not an exhaustive account of his career. He does not, for example, write about his time as actor manager of the English Shakespeare Company (which he founded in 1986 with director Michael Bogdanov) but that is the subject of another book by the author, so readers should not feel cheated. Instead, we are invited to immerse ourselves in an intimate and vivid account of his varied experiences of acting both on stage and television during the latter part of the twentieth century, and in the company of many of this period's most celebrated artists. Warmly recommended.
Reviewed by Dominica Plummer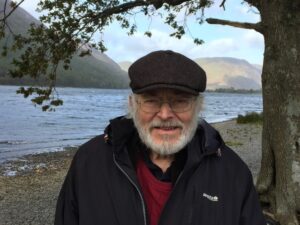 In My Own Footsteps (A Memoir)
by Michael Pennington is published by Michael Pennington Books. Available 24th June 2021 at £20 from all good booksellers
ISBN: 978-1-5272-9077-8
Read Dominica's show reviews here: