Chasing Ghosts
Etcetera Theatre
Reviewed – 9th October 2019
★★★½
"a strong piece of writing from Robert Bingham"
Hot on the heels of 'Bipolar Me', Etcetera Theatre have put on another play focussing on mental health, this being a new piece of writing performed by new company JB Theatre.
Seemingly normal chap Simon, lashes out at a female friend of his, breaking her jaw. He ends up in a police cell and despite being discharged, refuses to leave. An unconventional priest comes in to counsel Simon, help him confront his demons and try to get to the bottom of why he is continually being confronted by ghostly figures.
A fairly basic set consisting of a table, two chairs and a couple of stools did the job, lighting was fine with occasional nice little flourishes and music was well chosen. I did feel that each music cue was sliced off, a gentle fade would have been so much easier on the ear.
The play starts with priest Cade (Robert Bingham) reading aloud a devastating diagnosis that he had received from the hospital. This scene stayed with me throughout and as he used a series of bizarre tactics to counsel Simon, you wondered just what demons he was facing himself. Simon (Ben Felton) gives a very strong performance. He is wholly invested in his character, although never specified, he is clearly dealing with PTSD and the stillness and strength of his voice somehow makes his vulnerability particularly heart-breaking. An early scene when he attempts to escape his demons through dance, is particularly effective. Cade is a fascinating character, certainly not like any priest I've ever seen. The actor clearly has fun with him, there are some nice moments of humour and although he is possibly slightly overplayed, that opening scene keeps coming back to validate his behaviour. Callie (Katherine Lea) completes the cast, underwritten a little in my opinion, her downstage reading of a letter she had written to Simon is beautifully performed. I did however have an issue with her ripped jeans. In fashion, sure, but whenever the actress doubled as one of the demons, despite the fact that her face was hidden, you saw the ripped jeans and just thought, 'that's Cally!' A simple pair of black trousers would have helped the illusion. A nice little hinted at love story between Simon and Cally, I hope her boyfriend Dan is given the boot.
It becomes apparent that personal tragedy from Simon's early family life is haunting him, now the earlier mentioned health issue is haunting Cade. When Simon asks Cade "Will I will ever see you again?" and Cade waits a beat and answers "It's unlikely", it cut through me like a knife.
This is a strong piece of writing from Robert Bingham, the closing scene with a brilliant light fade, is really impactful. Thought provoking stuff with an interesting twist, I left the theatre wondering who had been counselling whom. I hope that JB Theatre go from strength to strength, they have a play here ideal for the festival circuit.
We all have our own personal demons, as I headed for the Northern line, I couldn't help looking over my shoulder to see if there was a cloaked figure following me.
Reviewed by Chris White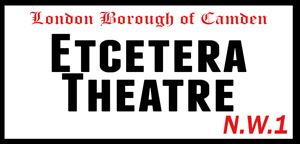 Chasing Ghosts
Etcetera Theatre until 12th October
Previously reviewed at this venue: