Antigone

New Diorama Theatre
Reviewed – 9th January 2020
★★★★★
"Holy What's excruciatingly incisive and nuanced production wrenches this classical play from its historical resting place and plants it firmly in the modern canon"
Honestly, Greek plays make me think of my GCSE drama theory, and just the idea of actually sitting through one makes me want to take a nap. Fortunately, Holy What's production is having none of that.
Antigone (Annabel Baldwin) and Ismene (Rachel Hosker), two teenage sisters, are holding up the home front whilst their brothers fight against one another in a war for leadership of the city. The sisters spend their time playing games, talking about boys and sex, and venturing in to city's nightlife.
When the soldiers finally return, both brothers are dead. Creon, their uncle and the newly appointed leader of the city, proclaims that one brother will be honourably buried and the other will be left unburied on the battlefield. Antigone insists that no-one should be punished this way, no matter their crime. Despite Creon's decree of death for anyone who tries to bury her brother's body, Antigone is insistent.
And that is the shortest possible synopsis for the ultimate Greek tragedy. On top of that, we've got incest, lots of tragic death, heroic acts, love, and let's not forget the thing that brings it all together, the lashings and lashings of family drama. All this, undertaken by a two-hander in one act.
Under Ali Pidsley's direction, Antigone focuses solely on the intense relationship between the sisters. Clearly far less interested in the particular twists and turns of the original character-packed plot, Lulu Raczka's script is an immensely intimate portrayal of sisterly love. Whilst the generalities of Sophocles' plot remains, the dialect is hyper modern. But somehow, despite plenty of talk of battlefields and death by starvation in a cave, it doesn't feel uncomfortably anachronistic. Instead, we're thoroughly drawn in to crushing moral dilemmas, and the impossible choices between doing the right thing and doing what's necessary to survive.
The performances of both Baldwin and Hosker are heartbreakingly honest. Their delivery so closely mirrors the intimate nuances of sisterly love that if it weren't for the fact that this is a rewrite of a Greek drama, I'd assume a lot of the script was verbatim.
The setting (Lizzy Leech), a small tiered platform filled with soil, evades complete understanding but is effective nonetheless. The dirt provides a play pit for the sisters in their jollier moments, and evidence of Antigone's actions later in the plot. And all that aside, it provides a pleasing texture to a story that otherwise requires few props.
Lighting (Tim Kelly) and sound (Kieran Lucas), both deceptively simple, play almost as much of a role in this production as the script. Lucas' score artfully navigates between low ominous rumbles, thumping soundscapes and noughties R&B. Kelly's lighting is similarly emotionally calculating and playful, amping up the drama when a two-person cast can't quite cut it.
My only real criticism for this production is that the soundtrack was a little too loud at various points – I had to plug my ears for a good couple of minutes in the middle, and I was still capable of hearing everything. And my other criticism would be that I'd appreciate if the lights stayed down for a minute or two at the end so that no-one could see my runny nose and blood-shot eyes. That's right, I was completely crushed by a Greek tragedy.
Holy What's excruciatingly incisive and nuanced production wrenches this classical play from its historical resting place and plants it firmly in the modern canon. What a way to start the new year.

Reviewed by Miriam Sallon
Photography by Ali Wright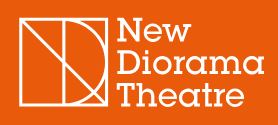 Antigone
New Diorama Theatre until 1st February
Last ten shows reviewed at this venue: