Maryhee Yoon

Actor Writer Director
Interviewed – April 2020
To kick us off – would you like briefly to introduce yourself?
My name is Maryhee Yoon – I am a Korean American actor and theatre maker based in London. I was born in Ohio, USA and moved to Seoul when I was ten where I spent the rest of my childhood. I came to London when I was eighteen to pursue my career in acting and theatre making, and am now living my best life here!
Acting, directing, writing – which is your preferred, if any, discipline?
This is definitely hard to say – I feel like I go through phases of which one I like best – and all of them definitely provide a good break from the other when I'm grinding especially hard. But I think it has to be between acting and writing. I've been writing and been dreaming of being a writer since I was about eight years old, but acting makes me feel alive and is what I did my training in – I think writing was something that was very private to only me at first, so I'm still learning the ropes of what being a "writer" entails!
What was your training/background?
I had the absolute pleasure of attending East 15 Acting School, 2016-2019, where I obtained my BA Acting International (hons) last year. My course was the perfect combination of traditional acting training and creative writing/devising training – I highly recommend it to all my overseas friends!
How long have you been pursuing your chosen career, and what made you choose this path?
I've been writing since I was about eight years old – it started with short stories about pirate ships and alien superheroes, but I must admit that I stopped writing when I hit about fourteen or so. I got back into writing when I was in drama school and I started learning about writing plays – I started falling back in love with the form, and so thankful that I did!
I started acting when I was ten or eleven years old, and the love for it kinda grew more intense every year. I committed to trying to make it into a career when I was about sixteen. And with the help of some very special mentors, I was able to attend drama school straight after graduating from high school in Seoul. I think I realised that if I didn't at least try, I would always regret it. And I do think I would regret it if I had gone into another path this soon. I am so happy and thankful and humbled by being lucky enough to have had this experience and, right now, I wouldn't want to trade it for the world!
What is the earliest piece of music/art/film/theatre (any medium in fact) that you remember having an impact on you and why was it so special?
I think I was like seven or eight – very young – and my mom took me to see my older sister's high school production of "Fiddler on the Roof". I don't think I understood the story or what was going on, but I remember absolutely loving it – the dancing and singing, the costumes and just the magic of it. I think a part of the reason I loved it so much was because it was my big sis! I've always looked up to her, and from that point I remember wanting nothing more than to join drama club as soon as I was old enough.
What part of the process of the production of a work, from conception to performance do you enjoy the most?
I think my favourite part has to be rehearsals – when things finally start coming together after months of grinding. It's the point where ideas come to reality in front of you and often where I think you learn the most about yourself as a creative, a collaborator, and a performer!
What drew you to the story of Iva Toguri, the protagonist of your award-winning musical "Tokyo Rose"? And, without getting too controversial, where would your sympathies lie? Do you think Toguri was really guilty of treason? Was her trial manipulated by the FBI?
It was actually my co-writer Cara Baldwin who originally found her story and presented it to me and the rest of our team – her story is incredible and the more we research, the more interesting it gets (which sometimes feels like a curse – what do we include? how do we best simplify a fifty year story into a single performance?) I'm especially drawn to her story because she's Asian American and I'm Asian American – it's heartbreaking, encouraging, and inspiring to learn about this part of history that has been lost – and to be able to be a part of retelling it! I don't want to spoil the show – it's up to the audience to decide whether what happened to her was just or not – our job is to just show the facts as objectively as possible. But when you look at the simple facts, I think it's pretty simple… and America has made a lot of mistakes – some of which they're still making today.
Is there something you are particularly proud of?
I did a sketch show in drama school and in front of 100+ people caught a tampon in mid-air with chopsticks on my first try…
While I am very proud of that… I think, of the things I'm most proud of, has been sticking to my ethics and principles in my work – even if that's meant losing jobs. I feel like creative work without compassion and ethics is completely pointless and I never would want to compromise myself for a job… Obviously that's a lot easier said than done and I'm sure I've made mistakes and will continue making mistakes – but I'm proud of my commitment to always trying my best and always trying to better myself and learning from my mistakes.
Were you in the middle of a project when the lockdown was put in place?
I had a few auditions that I never heard back from, but we all know that may not have been because of the lockdown… ha-ha! Other than that, we've been in our next stage of development for Tokyo Rose. Lucky enough though, we're still very much in the writing phase and have been able to continue our work remotely with the godsend Zoom! We're hoping that it won't affect anything once we do need to be in the room with actors.
How are you coping with this new (temporary) way of life?
I'm trying really hard to focus on compassion towards myself and others. I think there has been a lot of pressure put on artists especially to continue creating and to be as productive as possible – but we're all experiencing a shared trauma and I think it's absolutely valid to take time for ourselves, focus on our hearts and healing, and if we don't become the next Shakespeare during this time, I think that's absolutely fine. I've seen this whole thing as a call to pause, reflect on why we do our art, and reevaluate what we want to do in life. I promised to not put any unnecessary pressure on myself, and it's actually resulted in me falling back in love with a lot of it – doing it because I want to do it, not because I feel like I need to prove something.
Are you able to filter out the fake news from the real – and how much attention to you pay to the overload of information on social media?
In general, I try to stick to news sources that I trust – but there came a point where I stopped paying attention to a lot of it. I'm stuck at home either way, and I find a lot of it is not useful stuff to know – a lot of it seems to be primarily fearmongering. Obviously, I recognise my immense privilege in this situation and my heart absolutely goes out to those not as lucky as me – whether it be bad domestic situations, scary financial situations, being high-risk, etc. If anything, it's just been a reinforcement of my belief that many of the systems we live in are insanely backwards and unsustainable. I'm getting my fight gear on for when we need to come together and demand justice! I think one of the best things I've seen that has really stuck with me is; "Stop thinking about this as the apocalypse. See it as the revolution"
What's the first thing you're going to do when the lockdown is over?
Get a frothy, steamy latte and then join the revolution! I used to be quite active politically and I'm sorry to say that I've lost a lot of that with my own life getting in the way. But this has been a wakeup call to just how much needs to change in our system, and it's important to me to be on the right side of history and to be a part of the solution. I don't think this madness will end with the lockdown, and I don't think it should. If we don't change things, all of this will happen again, and we will continue to lose so many more lives than we should!!
When directing, writing or acting – what do you prefer – Musicals? Comedies? Dramas? (And as an audience – which, if any, do you prefer?)
Oh, this is a hard one! Ironically, I'm not actually that into musicals – I can't really sing or dance and I don't really understand music that much! Obviously, I love and adore working on Tokyo Rose, but it's a completely new medium to me and I would not be able to do it without our amazing team with me. I've historically been very into comedy writing, acting and directing, but I'm exploring drama more now and how to make something serious tasteful and impactful. I love it all, honestly.
What would you like the future to hold in store for you?
This might sound silly, but I don't really mind too much as long as I'm happy and my life is centred on love. Right now, that very much correlates with my love for acting and creating, and manifests in me throwing myself into my work – right now it's making me super happy and 'right now' I want the future to hold exciting projects and "success". But I'm trying to internalise that happiness and success don't always go hand in hand, and my first priority is to live a full life, whatever that entails. I don't want to limit myself, and I think there's a lot of pressure in this industry that if you change careers it makes you a failure or a cautionary tale, but I think that's a toxic attitude. There's no point in having great success if you're not happy.
Have you any tips for others on how best to get through the lockdown?
Be kind and compassionate! That's my biggest tip – just be compassionate to yourself and to others! We are collectively experiencing something traumatic, some more so than others, and I do believe that the only way we'll get through to the other side is if we lead with compassion for others and for ourselves.
Thank you for taking the time to answer our questions. Stay safe and keep well.
Interviewed by Jonathan Evans
Main photo (from A Great Big Sigh) by Lidia Crisafulli

Headshot by Leon Foggitt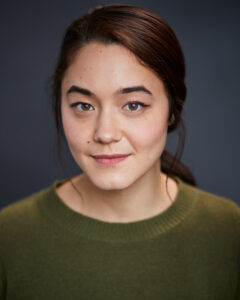 Find out more about Maryhee here: