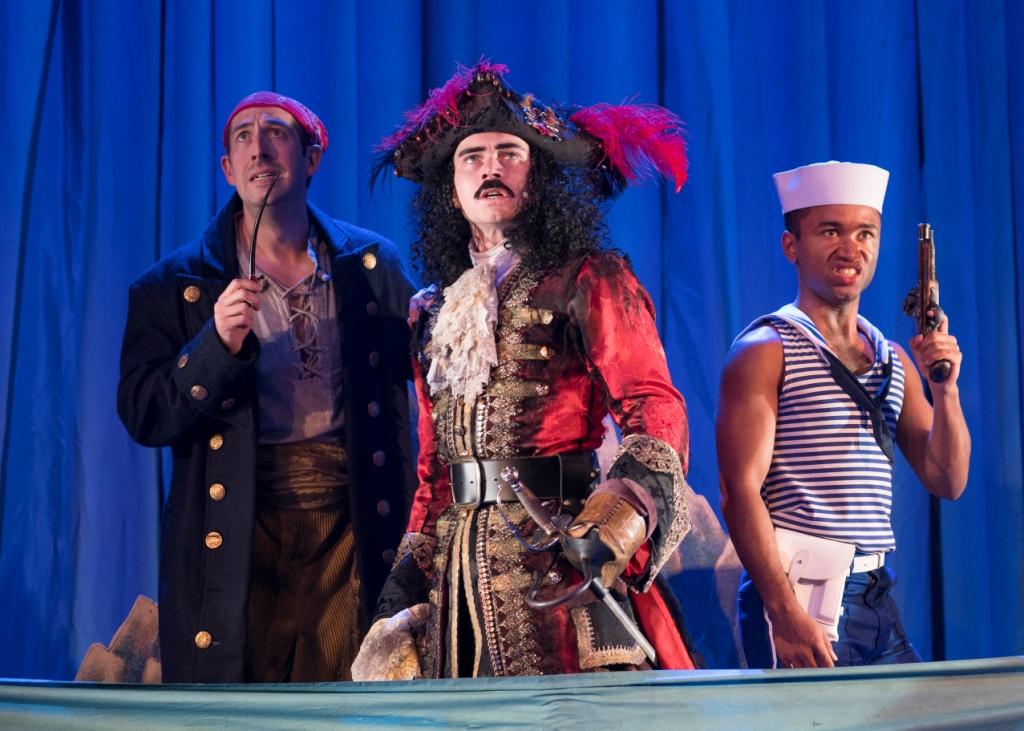 Peter Pan Goes Wrong

Theatre Royal Brighton
Reviewed – 19th November 2019
★★★★★
"Simon Scullion has designed a set that seems to be always on the verge of killing someone, yet manages not to"
Glorious slapstick, wonderful cheeky humour, and a completely mad 'plot.' Peter Pan Goes Wrong has everything you could possibly want from a hilarious evening at the theatre.
Once again I had my nine year old sidekick, Manu, with me to help with the review. He loved it, I loved it, clearly the whole audience loved it. Manu's favourite bits were the most outrageous physical 'mishaps'; the collapsing sets, the appearance on stage of the crew, trying to fix things with a chain saw and various other alarming tools. But the fun began even before the show did. Cast and crew moved through the audience, getting in the way, running wires, looking for lost equipment and chatting with people in their personas as amateur actors on their way to perform. Patrick Warner the narrator, who also plays the Cecco, the Italian pirate, made Manu a balloon dog and Ciaran Kellgren who plays Peter Pan came along, playing the star. 'You know who I am,' he informed Manu, and luckily he did, because he'd been reading the programme. 'You're my biggest fan' crowed Kellgren and signed his programme. One very happy boy, even before the play officially began.
Another thing that Manu loved was the number of characters some of the cast played. Phoebe Ellabani executed some lightning changes right at the beginning, transforming from Mary Darling to Lisa the maid in seconds. Several times. Later she became both Tiger Lily and Tinkerbell. Peter Pan's flying was incredibly skilful. He made it look shambolic, dangerous and very, very funny. I don't want to give too much away, but when the 'stage hands' came on to wire up the Darling children for their flight to Neverland they didn't exactly manage to do it right. You'll have to go and see it if you want to know what happens! It's hard to convey the sense of breathtaking chaos. Nothing goes right, and everything is perfectly judged.
Romayne Andrews, as John Darling wearing headphones that 'fed him his lines,' had some fabulous moments when he unknowingly tuned into the shipping forecast, or the 'backstage chat,' repeating everything verbatim. Tom Babbage's Michael Darling/crocodile combo won the hearts of us all, when his secret passion was revealed, his charm and vulnerability turning him from a geeky kid to the audience favourite. Connor Crawford's outrageous and exasperated Captain Hook was determined that the play was NOT a pantomime, but nothing was going to stop the audience taking up the traditional 'oh yes it is! Oh no it isn't!' call.
Everyone in the cast deserves mention, as they were all superb. Katy Daghorn was a Wendy holding it together with Sarah Bernhardt aplomb, Oliver Senton bumbled and growled as Starkey, woofed his way across the stage as Nana the dog and was determined that he was the Co-Director, not merely the assistant. Georgia Bradley was a sweet Tootles, injured and stuttering but finally triumphant and Ethan Moorhouse's Trevor the Stage Manager was the epitome of incompetent frustration, trying to fix everything as it collapsed around him. Although the collapse was probably his fault in the first place, his team of Assistant Stage Managers, Eboni Dixon, Christian James, Soroosh Lavasani and Ava Pickett 'helped' with startling uselessness.
Just when it seems impossible for things to fall apart even more spectacularly the finale happens. And it seems to happen to the cast, rather than be created by them. The revolving stage revolves, everything seems on the edge of total implosion and somehow the characters arrive at something approaching the expected end.
Simon Scullion has designed a set that seems to be always on the verge of killing someone, yet manages not to. The lighting and sound design add beautifully to the explosions and mishaps. And it's all shaped into a tight, crazy farce by Adam Meggido, who expects a lot from his cast and absolutely gets it.
The whole thing is a superb romp that anyone from nine to ninety will love, acted and directed with whip smart skill. Manu and I both say 'go and see it!' You won't regret it, although your ribs may be sore from laughing.
Reviewed by Katre
Photography by Alastair Muir

Peter Pan Goes Wrong
Theatre Royal Brighton until 24th November then UK tour continues
Previously reviewed at this venue: