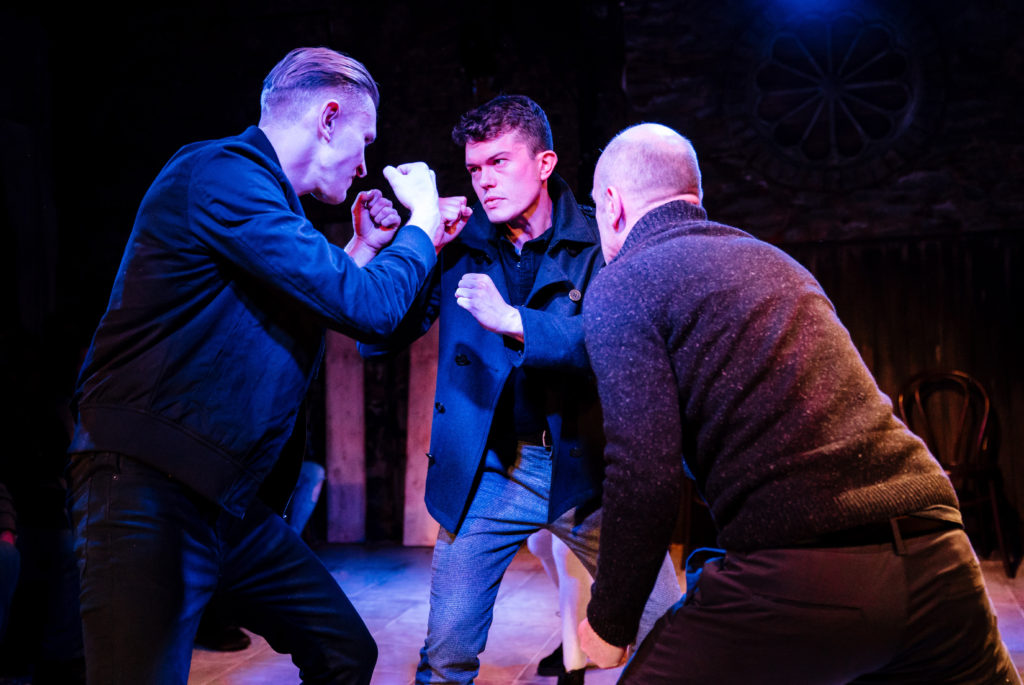 East
King's Head Theatre
Reviewed – 11th January 2018
★★★★
"a grubby love-letter to London: from a Londoner, about Londoners, for Londoners"
Going into the back of a Victorian pub to watch the revival of Steven Berkoff's seminal play about the East End, seemed like the only suitable way in which this production should be consumed. East made its London debut at the King's Head Theatre in 1975, and 43 years later, it is back at its original London home, under the helm of director Jessica Lazar, and her company, Atticist.
With a combination of: audience members with pints in hand, sitting amidst an intentional crumbling set and the show's Musical Director, Carol Arnopp tinkling on the ivories, you were immediately transported back to a pub of post-war, poverty-stricken London. Lazar did a fine a job in creating a multi-sensory atmosphere to envelop and match the textured, poetic language of Berkoff's writing – a quintessentially working-class British style that has gone on to inspire a generation of playwrights such as Jez Butterworth and Mark Ravenhill. What I was intrigued to see was whether Lazar and her cast were able to make this period piece resonate to a 21st-century audience, many of whom were born after East was first produced.
Bustling back and forth between moments from the 1950s to the 1970s, we are given snapshots into the lives, fantasies, hopes and regrets of a working-class, East End family. The cocky, energetic lads, Mike (James Craze) and Les (Jack Condon) bounce across the stage with youthful vitality and masculine bravado, in violent, expletive-filled outbursts. Mum and Dad drift in days gone by, reminiscing about the good ol' days. The racist Dad (Russell Barnett) is nostalgic for the wartime patriotism of Britain, whilst Mum (Debra Penny) daydreams about how she could have had a different life. Mike's downtrodden girlfriend, Slyv (Boadicea Ricketts), completes the line up, desperately wanting to escape the world she knows, as she debates if life would have been better if she were born a man.
Linguistically, Steven Berkoff created a modern day masterpiece with East. Fusing a pseudo-Shakespearean style with contemporary Cockney slang produced highly abstract yet recognisable, visceral voices from the streets. The whole cast did a tremendous job in tackling this complex text, giving it the colour and definition that it deserved. With jaunty vocal soundscapes and grotesque, exaggerated physicality, it was a complete feast for all the senses.
Anna Lewis, the costume designer for this production, made an excellent choice in deciding to use outfits that were universal that could easily be from our time, as it made the production seem timeless. Yes, there were many vintage references but, text aside, the archetypal characters that lay underneath, you would find in any urban community, of any decade. This truly was a grubby love-letter to London: from a Londoner, about Londoners, for Londoners.
Reviewed by Phoebe Cole
Photography by Alex Brenner
EAST
King's Head Theatre until 3rd February