Flying Entertainment with AES in association with The King's Head presents
The London Premiere of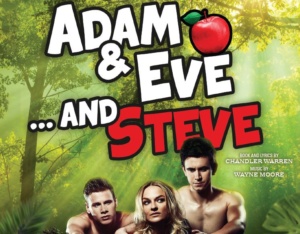 Adam & Eve … and Steve 
 21st March – 29th April 2017
King's Head Theatre
'Adam & Eve….and Steve' makes its London debut at the Kings Head, Islington from 21st March for a 5 week run.  This toe-tapping, warm-hearted new musical delivers laugh-out-loud moments in abundance and turns the age-old story of The Garden of Eden completely on its head.  The show is set to delight audiences and critics alike after a hugely successful Edinburgh Fringe Festival run last August.
God's plan to create Adam and Eve goes deliciously wrong when the mischievous Beelzebub interferes, and God creates Steve instead of Eve.    Adam is delighted with Steve (who thinks he is a woman called St. Eve) and all is harmonious until the two new BFFs are confronted by Eve herself.   A ménage a trois for the modern era ensues, and the future of humankind hangs in the balance as everyman Adam, loveable OTT Steve and jealous Eve try to sort out their tangled emotions….
Dale Adams (Steve):  trained at the Arts Ed, London. Stage appearances include Prince Charming in Cinderella and Frankie Valli in Oh What a Night! He has also appeared at Glyndebourne and was in the ensemble for the Olivier Awards.
Michael Christopher (God): played Sir Thomas Moore in Robert Bolt's A Man For All Seasons and Monk Tetzel in John Osborne's Luther.
Hayley Hampson (Eve):  trained at Liverpool Institute for Performing Arts.  Her credits include: Blue Girl in Shout! The Mod Musical; Faryl in Golden Oldies; Daisy in Pharaoh Cross the Mersey; and Sophie in Departure Lounge.
Stephen McGlynn (Beelzebub): has appeared in the West End in Mary Poppins, Mamma Mia (original cast), Les Miserables, Witches of Eastwick, and State Fair. He has also appeared in Romeo and Juliet, It's A Wonderful Life, Hairspray, Macbeth, Beauty and the Beast and Evita.
Joseph Robinson (Adam): trained at The Guildford School of Acting and this is his professional debut.
The book and lyrics are by Chandler Warren, a noted US entertainment lawyer, producer and writer. Warren has written extensively for TV and theatre, as well as penning numerous books and articles. He has also produced movies for TV and theatre productions – both on and off Broadway. The original music was composed by Wayne Moore, whose previous works include; There's No Place Like Hollywood (Stella Adler Theatre), Freeway Dreams (The Gardenia), I Know I Came In Here For Something and The Real Desperate Housewives (Taconic Playhouse, New York).
This production has Francesca Goodridge directing and choreographing once more. Her directing credits include Shout! The Mod Musical at LIPA, Edinburgh Festival and Liverpool's Royal Court Theatre.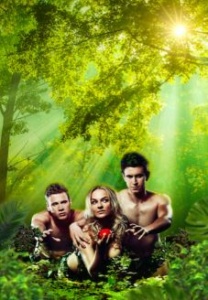 ---
---
Listing
Adam & Eve … and Steve
Tuesday 21st March – Saturday 29th April 2017
Tues – Fri @  8.40pm | Sat @  3pm & 8.40pm | Sun @ 5pm

115 Upper Street, London, N1 1QN
Box Office
020 7226 8561
Tickets: £10 – £35