Fishskin Trousers
Park Theatre
Reviewed – 19th October 2017
⭐️⭐️⭐️ 1/2
"not a play likely to change your life but it is an engaging piece"
Ask a Suffolk resident about Orford Ness and they will likely and correctly inform you that it is an internationally important coastal nature reserve with a fascinating history. The spit is littered with debris and unusual, often forbidding buildings from a disturbing past.
Fishskin Trousers now playing at the Park Theatre features three characters on the Orford Ness who tell their stories. They're from different centuries but their tales become increasingly entwined as the play builds to its climax.
Mab is a 12th Century servant working in the nearby Orford Castle who becomes fascinated by a wild man caught by fishermen who is thereafter imprisoned in the castle's keep. Ben is a scientist who in 1973 is working on Cold War radar experiments to scan the waters and hears strange sounds from the sea. Mog is a young woman in 2003 facing a heartbreaking personal decision.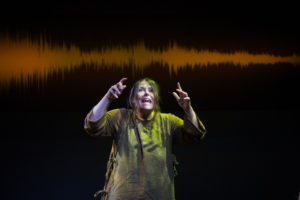 The play opens with each of the characters dressed appropriately for their era, on a very basic set (Nancy Surman) with a background picture of a sound wave, the significance of which is slowly revealed. Each in turn tells their story and over the course of the evening their monologues slowly reveal the connections between them.
Mab gives an eyewitness account of the legendary Wild Man of Orford speaking with a 12th century accent. Certainly the accent created by actor Jessica Carroll doesn't sound very 'Suffolk' as we know it today but there again what was the accent like 800 years ago? It didn't distract from her overall performance.
It was perhaps easier to relate to Ben's story given its recent historic setting. Brett Brown plays the character with conviction, showing both the funny and disturbed sides of his character.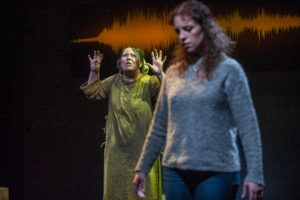 Mog's story is arguably the saddest of all three. She is faced with a heartbreaking decision that eventually brings her back to the Ness. Eva Traynor appears to feel the pain of Mog's situation with the difficult choices she has to make, given they are equally undesirable.
The stripped down production, directed by Robert Price, relies almost totally on the skill of the actors to hold the audience's attention. The production would have benefitted from sound effects and a better lighting design (Matt Leventhall) but understandably this play is all about the monologues.
Fishskin Trousers is haunting story telling about loss and grief, set in the mists of Suffolk. It's not a play likely to change your life but it is an engaging piece intelligently written by Elizabeth Kuti and one that fans of monologues are bound to enjoy.
Reviewed by Steve Sparrow
Photography by David Gill


FISHSKIN TROUSERS
is at The Park Theatre until 11th November