The Conversation
Blue Elephant Theatre
Reviewed – 8th November 2017
★★★★
"Burch is a charming personality and more than capable of enrapturing an audience for an hour"
Lauren Aimee Burch describes herself as a post office worker with aspirations of being a performance artist. 'The Conversation' is her attempt to tackle the subject of consent in an accessible and honest way. In this one-off performance of her own creation she serenades us, drinks rosé, and opens up to a room full of strangers with profound honesty.
Conversations about body autonomy are always worth having, especially nowadays when allegations of sexual misconduct are surfacing constantly. Burch isn't here to give a lecture though, instead she builds a genuine relationship with her audience before revealing her own experience of sexual assault. There is no intention to shock or be controversial, nor is she looking for pity. She is refusing to be defined by this experience but is clear it has affected her.
Burch is a charming personality and more than capable of enrapturing an audience for an hour. Her fear of the dark, feelings of loneliness, and love of cats are discussed with lively earnest as the conversation builds to the topic of rape.
The audience/performer dynamic is used to test boundaries very cleverly. Blue Elephant Theatre's intimate setting reinforces the notion that we are involved with the show and not just passive witnesses. When she invites me to cuddle her onstage I am hyper-aware of whether my contact is inappropriate and how comfortable I am with participating. The stage is empty save for a sagging pink sofa, which at one rather hilarious point two audience members help to inflate as Burch sprawls across it and chats casually with them.
The abrupt ending was an unfortunate let-down for me. After a lovely moment where Burch strums a ukulele and apologises for any discomfort, she turns and walks off the stage. Everyone was confused about whether this signalled the end and this was only confirmed when an employee started the applause. The musical turn was enjoyable but it may have been more powerful to end after audience members read from personal letters she had distributed at the start.
One such letter expressed her wish that we would continue to discuss consent after the show, and on my way to the exit I heard the couple in front of me debating about the technical definition of rape.
There are many voices contributing to the topic of sexual assault, Lauren Aimee Burch is definitely one worth listening to.
Reviewed by Ella McCarron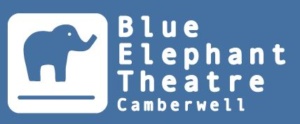 THE CONVERSATION
was at the Blue Elephant Theatre