The Funeral Director
Southwark Playhouse
Reviewed – 2nd November 2018
★★★★★
"The play illustrates the beauty of complexity; of embracing nuance rather than shying away from it"
In June 2018, the U.S. Supreme Court ruled in favour of Colorado's Masterpiece Cakeshop's decision to refuse service for a same-sex couple, just a month before Iman Quereshi was announced as the winner of Papatango's 10th Anniversary New Writing Prize with The Funeral Director. Justice Kennedy summarised that 'Religious and philosophical objections to gay marriage are protected views and in some instances protected forms of expression', though the court did not provide a lasting precedent for religious exemptions for businesses over clients' sexual orientations. With The Funeral Director, Quereshi defiantly resists such deferral of responsibility. While courts wrangle and tabloids simplify, art rises. What emerges is a triumphant piece of theatre, which, despite its wonderfully stubborn insistence on complete humanisation, retains a deftness to its powerful LGBTQ storyline.
We begin with Ayesha (Aryana Ramkhalawon) and her husband Zeyd (Maanuv Thiara). Stuck in a relatively unspectacular (but not unloving) marriage, the pair manage Ayesha's family business: an Islamic funeral home. However, when Tom (Tom Morley) arrives with a seemingly simple request — for them to provide a dignified service for his late boyfriend, their refusal leads to cultural and religious disarray. When Ayesha's childhood friend-turned-lawyer Janey (Jessica Clark) returns to care for her own mother, the incident's ramifications expand further. The play becomes an exploration of modern British identity and perception. Clark's warmly charismatic Janey represents an increasingly secularised London elite: professional, liberal, firm, but fiercely inclusive and just. Her condescension towards the 'backwards people' of her hometown crumbles so as not to create an overpowering division of 'us and them' — incidentally, the racialised dynamic Zeyd fears from the British media.
This is the play's most complex and successful negotiation. In creating Zeyd as a genuinely caring and pragmatic character, director Hannah Hauer King avoids a descent into generalisation. His homophobia is condemnable from the outset, but his dilemma embodies the encroachment of community pressure upon personal belief — forces managed with ease by the constantly endearing Thiara. He would love his own child regardless of its sexuality, but he cannot face the wider fallout from the Muslim community. Although this selectivity is hardly a foundation for sincere tolerance, it allows the play to develop the ideas of personal
spirituality and ideological emancipation which we hope eventually touch Zeyd too: a loving Allah would not want Muslims to suffer persecution owing to their sexuality and loves all, Ayesha explains at the close.
Again though, the play is woven with a precision which rightly champions the voices of its queer characters. Morley's anguish as Tom prompts Ayesha's transformation, but it is his boyfriend's faith who provides the reasoning. Even in absence, his power is devastating, embodying the strength of queer Muslims while symbolising trauma's potential results in the fight for existence. The play illustrates the beauty of complexity; of embracing nuance rather than shying away from it. Queer intersectionality's very foundations within British society are questioned and embraced under the lights of Southwark Playhouse. The result is mesmerising.
Reviewed by Ravi Ghosh
Photography by The Other Richard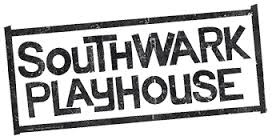 The Funeral Director
Southwark Playhouse until 24th November
Previously reviewed at this venue: