Love (Watching Madness)
Pleasance Courtyard
Reviewed – 5th August 2019
★★★
"feels a bit like a rough draft: brimming with potential, just in need of some shaping and smoothing"
Isabelle Kabban's solo show about growing up with a mother with bipolar disorder is an intense, piercingly honest look at the way mental illness affects families. Framed as a session with her therapist, Kabban recounts a series of scenes from her childhood in an attempt to make sense of them. Directed by Ruth Anna Phillips and produced by Speak Up Theatre, Love (Watching Madness), if a bit rough around the edges, is an authentic and incisive look at bipolar disorder.
Kabban brings intensity and great depth of emotion to her performance. Her examination of her relationship with her mother is adeptly both compassionate and unsparing. Kabban's writing acknowledges the complexity of its subject. Too often mental illness is dismissed with shallow, stigmatised representation. Kabban smashes stereotypes in giving us a nuanced, three-dimensional portrayal of her mother.
The show is raw and chaotic. It's messy, which could be an intentional choice by Kabban and Phillips to reflect the theme of madness, but it might be too much so. At times hard to follow, Love (Watching Madness) feels a bit like a rough draft: brimming with potential, just in need of some shaping and smoothing. Differentiating the voices – mother and daughter – would go a long way in helping the audience get a better grip on what's being communicated. The effort required to figure out who is talking distracts from the performance. A change in posture, voice timbre, or body language would help clarify the story. The moments of dancing with strobe lights create an interesting aesthetic, but their purpose is uncertain. The choppy, scattered nature of the memories make the action difficult to track, and Kabban's intensity hinders the humour in certain lines.
Although the show could benefit from further development, it contains more than a few gems. "I used to think if I became really successful it would fix her," Kabban says. "I used to think people would do anything for the ones they love. Now I know that's not true." She self-flagellates, hitting her thighs and hands together with bruising force, repeating, "How can I fix you? You can't." Kabban repeatedly delivers these moments of searing insight, brutal honesty, and complete devastation. They hit hard and leave a lasting impression.
SpeakUp Theatre is on a vital mission to break down stigma surrounding mental illness. Kabban has created a show many will relate to, and many will walk away from with deeper understanding. The world needs to hear more of these stories. We're lucky to have artists like Kabban and Bryony Kimmings, who are capable and willing to articulate the most incomprehensible of human experiences. They share their pain so we can feel less of ours.

Reviewed by Addison Waite
Photography by Ruth Phillips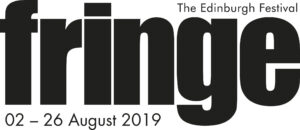 Love (Watching Madness)
Pleasance Courtyard until 26th August as part of Edinburgh Festival Fringe 2019