GRANDMOTHER'S CLOSET
at Edinburgh Festival Fringe
★★★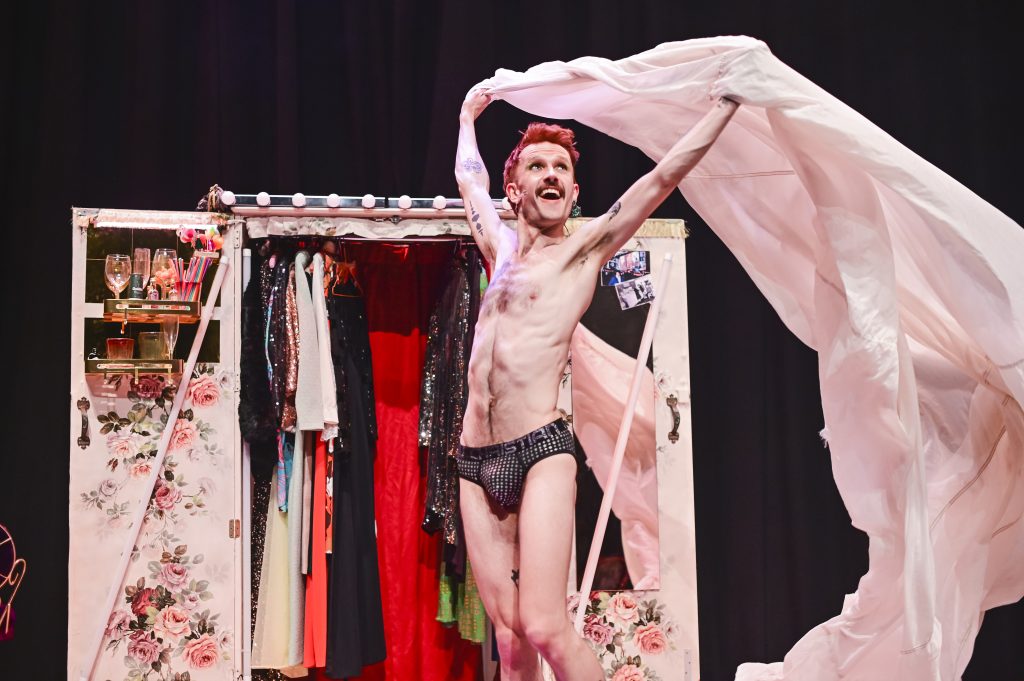 "A messy first half turns into a touching second"
Luke Hereford's solo autobiographical show is a musical journey through his life growing up in Wales, discovering his queerness, and his relationship with his nan, who also happens to be his number one fan, and his best friend. Set at her ninetieth birthday party, Hereford is joined on stage by pianist Bobby Harding, who accompanies them with a soundtrack of Kylie, Kate Bush, and Meet Me in St Louis.
There's a lot to admire in the show. It's sort of fabulously chaotic, a little bit messy, which kind of suits the tone as Hereford plays dress up with items from his grandmother's onstage wardrobe. It's old fashioned, the insides patterned with pale pink florals. On the other side of the stage is a dressing table, draped with a few bits of Nan's jewellery and perfume bottles; a hollow mirror, which Harding pokes their head behind, sat at the piano. Hereford narrates stories of his first time at pride (with Nan providing the lube and condoms), and their trip to Broadway together, to see eight shows in five days. But Nan, as later revealed, has dementia. And it's heartbreaking for Hereford, and us, to see her memories fading. She's his biggest icon. But, as he eventually realises, 'even if your memory fades, I'll always have them, even if you don't'.
The musical numbers and staging are generally a bit all over the place. Hereford doesn't have the strongest vocals, and sometimes loses control of the performance as he tries to get through the songs. He's certainly very committed to the act, which is commendable, but some tighter direction or choreography could really help give each of the segments a bit more purpose. In one section he sort of waves a large white sheet around, and I'm not really sure what's happening.
The action of trying to get the lipstick on properly, and then finally getting it right, gives the show a really nice overall character arc. We feel by the end that Hereford does now have what they need to be their true self, even if Nan isn't around anymore in the way she used to be. A messy first half turns into a touching second, but the show as a whole needs quite a bit of tidying up to become something really special.
Reviewed 13th August 2022
by Joseph Winer
Photography by Kirsten McTernan
For dates and venues for all Fringe shows, click on the image below