Homos, or Everyone in America
Finborough Theatre
Reviewed – 14th August 2018
★★★★
"McEntire and Huntley as the two leads give incredible performances"
Jordan Seavey's 'Homos, or Everyone in America', receiving its European premiere at the Finborough Theatre, is a whirlwind of a play, full of love, intelligence, mystery and warmth.
Told in scenes that leap around between 2006 and 2011, 'Homos…' is the story of 'The Writer' (Harry McEntire) and 'The Academic' (Tyrone Huntley), two twenty-somethings living in Brooklyn, NY. They meet over Friendster, the social networking site that appears to have been the next big thing before Myspace and Facebook arrived on the block, and from a drunken first date onwards, the play charts their highs and lows, their arguments, make-ups, break-ups and everything in between, until one life-changing event unsettles and rearranges everything they had before. "Handsome, and sort of strapping" Dan (Dan Krikler), a friend of The Academic, becomes a key player in the couple's downfall, whilst Laila (Cash Holland), an enthusiastic and kind Lush worker, does what she can to help a stranger in a time of need.
A play about well-educated New York gay men talking about being gay can hardly be called ground-breaking, but Seavey's script, stylistically built up on half-sentences, interruptions and people talking over each other, is moving, truthful, and feels real. The structure means each scene is sort of a guessing game as to when and where we are in the relationship, and the neat movement sequences (simply effective work from Chi-San Howard) work with the script to foreshadow a darker event on the couples' horizon.
McEntire and Huntley as the two leads give incredible performances, sitting into the characters convincingly, and seeming free and at ease with each other and the space. Both actors display an impressive ability to snap out of emotional fraught scenes and move into lighter ones (and vice versa) at the drop of hat, and in a play so filled with arguments, they make the most of the kinder, funnier moments to give the audience a sense of why they are together.
Josh Seymour's direction keeps the action varied, even when the script begins to feel a little repetitive (argue – make-up – repeat), and by giving us physical milestones at the beginning to keep an eye out for, gives a strange sense of emotional déjà vu, as if it's somehow our relationship up on stage. A word of warning though: those with sensitive noses beware, this production contains Lush products, and lots of them.
"To see a World in a Grain of Sand…" Williams Blake once wrote, and on the Finborough's luscious, sand-covered stage, this relationship works hard to be the one grain representing many. It seemed odd at first to be taken back to Bush and Obama, but that time frame, and the shock and drama of the finale, suggest now more than ever is a time for vigilance and action. Has the world become (to use a word hated by The Writer) less tolerant, less safe? We hope not, but in the meantime, let's celebrate love, kindness and what individuals can do for each other.
Reviewed by Joseph Prestwich
Photography by Marc Brenner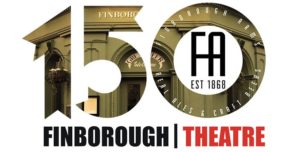 Homos, or Everyone in America
Finborough Theatre until 1st September
Related
Previously reviewed at this venue