The Tempest
St Paul's Church
Reviewed – 26th June 2018
★★★★
"The gardens provide a stunning backdrop and the church itself adds an element of drama to the production"
Struggling with the searing city heat? Fancy the theatre but can't face the stifling environment of the auditorium? Head to St Paul's, the Actor's Church in Covent Garden and be treated to Iris Theatre's alfresco performance of The Tempest. The gardens of St Paul's are a delightful escape from the heat and give a beautiful backdrop to this promenade production.
With almost perfect timing at the opening scene, the wind starts to pick up and rustle through the trees creating the sense of trouble ahead. This continues as Jamie Newall playing Prospero whips up a foreboding storm and sets the fate of the King of Naples and his accompanying crew.
Charlotte Christensen is a delight as Ariel. She plays the ethereal, mystic creature so well you forget she is human as she gracefully moves around the set with an unwavering quizzical stare. Her voice is magical, and her flute playing is mesmerising. She certainly is the star of this show.
Paul Brendan as Trinculo and Reginald Edwards as Stephano delight the audience with their portrayal of drunken fools. These scenes bring a welcomed light heartedness to the evening.
The gardens provide a stunning backdrop and the church itself adds an element of drama to the production. The lighting design by Benjamin Polya used within the church is both clever and imaginative.
Despite the heat of the day the garden is much cooler than elsewhere, enclosed by tall buildings it is very shady and the temperature drops rapidly. You would be wise to take along a jacket or even a blanket to ensure you are not shivering through the closing scenes. Take advantage of the current weather and take part in this special and engaging show.
Reviewed by Angela East
Photography by Nick Rutter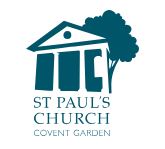 The Tempest
St Paul's Church until 28th July
Related
Previously reviewed Iris Theatre production