Bipolar Me
Etcetera Theatre
Reviewed – 2nd October 2019
★★★
"it needs to evolve from simply shining the light, into interrogating and addressing the motives behind doing so"
Bipolar Me, written by Ceri Ashe and co-directed with Liam Reilly, showcases main character Katie's journey to discover and come to terms with her diagnosis of Type 2 Bipolar, symptomatic of cycles of severe depression and hypomania. There is plenty in Bipolar Me that those struggling with mental health issues, not even just Type 2 Bipolar, can relate to. The waiting times for appointments, for example, as even with a good doctor who takes Katie's issues seriously it still takes a year to be seen by a specialist. And between the personal lens of Katie's story and the specialist's medically accurate – if somewhat creatively uninspired – explanations of Type 2 Bipolar, we get an in-depth breakdown of the condition.
Ashe's performance is a standout. From a frantic interrogation of the audience in Katie's hypomanic state to days in bed during depressive episodes, she takes them convincingly through the highs and lows of someone struggling with the condition. The set design strengthens this portrayal, as all the action is either based in or performed from Katie's bedroom and shows the lonely, claustrophobic nature of mental health.
Unfortunately the play fails to explore the more complex questions it raises. The main dilemma for Katie, whether to go on the recommended drugs for her condition, is thoroughly debated. She wonders whether her Bipolar defines who she is, whether the hypomanic highs aid her creativity and success in songwriting. The opportunity to interrogate these ideas is lost, as the play ends the moment she makes her decision.
Other characters in the piece also feel flat and superficial compared to Katie herself. The core relationship in the piece, between Katie and her boyfriend Mark (Matthew Betteridge), ends with an expositional line from a secondary character. Although set up as one of the key plot points of the piece, the reasons for the break up are never spoken of in detail. Beyond Mark being from Essex and, for a while at least, in love with Katie, we know very little at all about him. Then there is Gabe (Andrew Armitage), Katie's gay best friend, who serves up about all the stereotypes you'd expect with no character development whatsoever.
By placing a little-talked about issue centre stage, Bipolar Me is definitely a step in the right direction when it comes to mental health issues being raised in theatre, but it falls short of the potential it sets up for itself. Self described as a play that "shines a light on a still much stigmatised subject," it needs to evolve from simply shining the light, into interrogating and addressing the motives behind doing so.
Reviewed by Katy Owen
Photography by Hannah Sorrell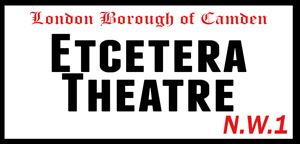 Bipolar Me
Etcetera Theatre until 6th October
Last ten shows reviewed at this venue: