[Best_Wordpress_Gallery id="425″ gal_title="Mad House"]
Mad House
Ambassadors Theatre
Reviewed – 26th June 2022
★★★★★
"Pullman is cast to perfection as the irascible Daniel"
It would be easy to dismiss Theresa Rebeck's Mad House as just another darkly humourous American family drama that never seems to go out of fashion, despite its increasingly creaky foundations. (Cue decaying old house where the family patriarch still holds control, even at point of death.) I'll admit I went expecting warmed over Arthur Miller, but I left the Ambassadors Theatre with respect—huge respect—for the talented cast (more later) and its director, Moritz von Stuelpnagel. Also for the playwright, who managed to take such overly familiar material and turn it into a heartfelt epiphany in praise of American naturalism. Rebeck is an actor's playwright. She creates well rounded, memorable characters, and writes plenty of good lines for actors to chew on. There are sufficient plot twists to keep audiences engaged and happy. Don't be concerned if the story seems to stall a bit from time to time —all will be forgiven and forgotten in the stunning, and unexpected, denouément. Then there's the added pleasure of going home still thinking about the play, and realizing afresh all the sly humour as you replay Mad House in your memory.
The plot of Mad House revolves around dying patriarch Daniel (Bill Pullman) and his fractured relationships with his adult children Michael (David Harbour), Nedward (Stephen Wight) and Pam (Sinéad Matthews). Michael is the primary caregiver, despite his fragile mental health, while Nedward and Pam maintain family ties at a distance (and those mostly through threats of legal action). Daniel may be failing, but he has lost none of his ability to manipulate and torture his family, even as he struggles to breathe. Much is made of son Michael's incarceration in the state mental hospital (the 'mad house' of the title). But as the play develops, it is increasingly clear that the mad house is, in reality, the family home. Mad House may look like a naturalistic drama, but it plays like a Greek tragedy, with laughs. We begin to feel, as the play proceeds, that Michael's psychotic breakdown is not so much a cry for help as a fit of divine madness. A moment of madness designed to liberate him from a cruel life where people torture him for just being different. Even his own family. The only two people to show Michael kindness are his mother (dead before the play begins) and the hospice nurse Lillian (played by Akiya Henry). But while Michael's mother was not up to the challenge of defeating the patriarchy, Lillian shows she is made of sterner stuff. Hailing from St. Vincent and the Grenadines, she has to deal with Daniel's racism and sexism head on, but she is more than up for the fight. Her own tragedies have strengthened her, not broken her, even as she has to work in mad houses of all kinds simply to survive. And as she and Michael forge a bond in this particular mad house, it is Lillian, ironically, who gives the madman the key to his freedom, and a way to open the door—not into more insanity, but peace. The plot of Mad House is good, substantial stuff, and the actors in this production take full advantage to show us what they can do.
Top billing goes rightly to Bill Pullman and David Harbour. If Theresa Rebeck is the actor's playwright, then Bill Pullman is surely the actor's actor. Pullman is cast to perfection as the irascible Daniel. He manages to be both utterly unlikeable and roguishly charming. Pullman sets up the play with his character so cleverly that David Harbour as Michael can confidently step into his role and grab all the sympathy (and most of the laughs) for what follows. It takes a confident performer to bring off the complicated and layered role of Michael, but Harbour is more than up for the task. And it is not just the Harbour/Pullman partnership that works so well in this production of Mad House. Akiya Henry, as Lillian, makes the two into three, and it is this trio that keeps the audience on the edge of their seats. Henry brings Lillian's strength into play right from her first entrance, but one of the most touching moments in the play happens in the second half, when Mike and Lillian reveal to each other, the depth of their separate tragedies. In the hands, and voices, of actors less talented than Harbour and Henry, this moment of shared vulnerability might seem contrived. But it works. The whole cast of Mad House is superb, but it really is the teamwork of Pullman, Harbour and Henry, and the work of director Moritz von Stuelpnagel, that make this production so memorable. The set design by Frankie Bradshaw is both authentically American and appropriately decaying.
Mad House is a welcome addition to the West End—so heavy with revivals and musicals at the moment—so I heartily encourage those who appreciate good, well written naturalistic plays to hurry along to the Ambassadors Theatre, where star power is on full display. You'll be glad you did.
Reviewed by Dominica Plummer
Photography by Marc Brenner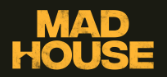 Mad House
Ambassadors Theatre until 4th September
Previously reviewed at this venue: