[Best_Wordpress_Gallery id="421″ gal_title="Hen"]
Hen
Hope Theatre
Reviewed – 9th June 2022
★★★
"a dark, longing, and purposeful play

"
Hen is the debut play written by Josh Husselbee and directed by Sarah Fox. It tells the story of 

Alister (George Fletcher) and Andrew (Oliver Lyndon) who are privileged friends sharing a flat in east London.
Following his recovery from a recent overdose, and the death of his mother, Alister is bequeathed a hen through his mother's will, and must persuade his flatmate to help keep her alive in order to inherit the family money.
Alister had strained relationships with both his parents, and his attempts to become a better person for his mother's posthumous forgiveness put him in a situation we could only imagine of having to deal with. The line from his mother's voicemail to him of "some people are just born rotten" hits a nerve and sets the tone for how we see Alister. He is not failing, he is struggling.
Flatmate Andrew does not need a job, focussing instead on various girls and spending money to keep him occupied. It's clear he wants to be in control of situations, to the point of being manipulative at times. This homosocial relationship between Alister and Andrew is fractious – whilst moments are bonding and raw, the anger and lack of understanding of each other's circumstances is obvious. They are both extremely lost, trying to find a purpose.
The comedic delivery of the play uses the hen to represent the chaotic reality of life, the messy situations and the anger at what we are dealt; mix that with how to look after a hen, and a lot of eggs and excrement in a two bedroomed flat, and you are provided with a strong blend to a dark narrative.
Both George Fletcher and Oliver Lyndon provide raw, gut-wrenching performances in the play, having a great chemistry to hit the anger and grief, to then play off each other when the chaos of looking after a chicken ensues.
The tiny playing space at The Hope easily becomes the boys' flat, a few chairs here and there and a circular yellow rug on the white floor (no coincidence this looks rather egg-like). Clever lighting in such a small venue is a joy and the sound too is spot on. Design of all these elements comes from Sarah Fox and Josh Husselbee.
The ending for me leaves more questions than we started with, and I couldn't quite grasp the final concept. I feel it's a representation of what is real, and what we wish to be real, but I do wonder what the original interpretation was meant to be.
Hen hits you in the gut then gives you the punch line moments later. It is a dark, longing, and purposeful play, and every individual can draw their own conclusions from its personal message.
Reviewed by Kay Borkett
Photography by Max Curtis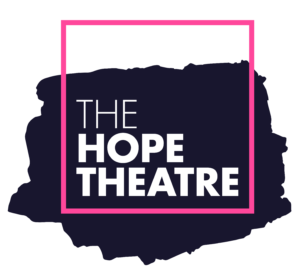 Hen
Hope Theatre until 15th June
Previously reviewed at this venue: