Once
Queen's Theatre, Hornchurch
Reviewed – 4th October 2018
★★★★★
"a phenomenal production"
In Dublin, a man is about to leave his guitar behind for good. But a Czech woman needs her hoover fixed, and she plans to pay him in music. So begins a musical partnership, that over the course of a week, will change both their lives. Based on the acclaimed film by John Carney, 'Once' is a quietly beautiful story of music, love and loss. 

This is the first ever regional production of 'Once' and what a production it is. It started life at the New Wolsey Theatre, and now opens at Queen's Theatre Hornchurch to a standing ovation.
The actor-musician cast are supremely talented, vocally superb, genuine and often very funny in their performances, alternating between instruments with complete ease. Daniel Healy and Emma Lucia play the central couple. Lucia is wonderful, apparently unphaseable, lively and immediately likeable, the heart and soul of this story. Healy is equally fantastic. Lost and hurt, he sings and plays with an urgency of emotion that is both beautiful and heartbreaking to watch. Their relationship is tangible onstage, the words left unsaid and the complications that surround loving someone. Sean Kingsley as Billy, is a lively comic addition to the production, incongruous and bold. In fact, there isn't a weak link across the cast.
Libby Watson's accomplished set creates a familiar pub backdrop, walls heavy with frames, with a roof that lifts to reveal a star studded night sky high above the world. Under Peter Rowe's direction, the actors remain onstage almost constantly, and a fantastically warm sense of ensemble is created.
Enda Walsh's book is playful and simple, coupled with music and lyrics by Glen Hansard and Marketa Irglova. Swelling folk tunes are followed by beautiful moments of ensemble acapella. This is a phenomenal production, touching and funny and deeply human, delivered by superb performances across the board.
Reviewed by Amelia Brown
Photography by Mike Kwasniak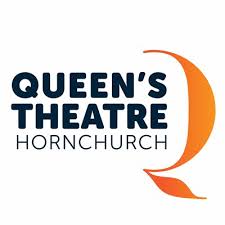 Once
Queen's Theatre Hornchurch until 20th October
Previously reviewed at this venue: