Potted Panto

Southwark Playhouse
Reviewed – 10th December 2019
★★★★
"a celebration of all that is silly and fun about pantomime, something all the family can enjoy and most certainly will!"
According to Jeff there are six great pantos. According to Dan there are twelve, but his list does include the Queen's speech. And all six (or twelve) are about to happen in potted form on the stage of the Southwark Playhouse!
Our first pantomime is Jack and the Beanstalk, featuring an ill-timed beanstalk entrance, a moose that lays golden eggs and a mother in a pink feather boa who can't afford that next bottle of Bollinger, darling. Next up, Dick Whittington, Show White, Sleeping Beauty, Cinderella, and finally Aladdin, unless Dan gets his way, in which case it'll be A Christmas Carol. The northern fairy in Sleeping Beauty is a particular highlight as is Cinderella's French God-Chicken.
As we travel through the different pantomimes, we also learn about the different pantomime traditions, as Jeff teaches Dan and the audience at the same time. All the classics are there from, "He's behind you," to "Oh no he isn't." There's audience participation including a 3D experience of Cinderella's coach ride home after the ball. There's satire of course – Dick Whittington is a close imitation of Boris Johnson complete with messy blonde wig and prevaricating Eton voice. Brexit makes an appearance, and overall the show strikes a good balance between entertaining both children and adults alike – although they may not be laughing at the same thing!
Simon Scullion's set is simple background for the different stories that is brought alive by the wealth of costumes (Nicky Bunch) and props that are paraded across the stage. The windows cut into the set are ideal mechanisms for cameo appearances and entrances from fairies, Prince Charming and the Queen of England.
Daniel Clarkson and Jefferson Turner are a comedy duo who have been working together for years, including as CBBC presenters. As well as performing in the show, they are its writers alongside Richard Hurst. They are clearly having a fantastic time together onstage, and it's infectious. Clarkson is perhaps the more compelling performer of the two, but still they balance each other well, transforming between a host of characters with ease and wit. There's a lot of very clever stuff in it, but at its core it's about having fun, and the constant laughter from the audience was an undeniable measure of that.
This is a celebration of all that is silly and fun about pantomime, something all the family can enjoy and most certainly will!
Reviewed by Amelia Brown
Photography by Geraint Lewis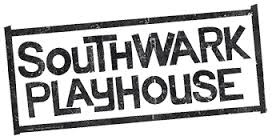 Potted Panto
Southwark Playhouse until 11th January
Last ten shows reviewed at this venue: