POTTED PANTO
at the Apollo Theatre
★★★★★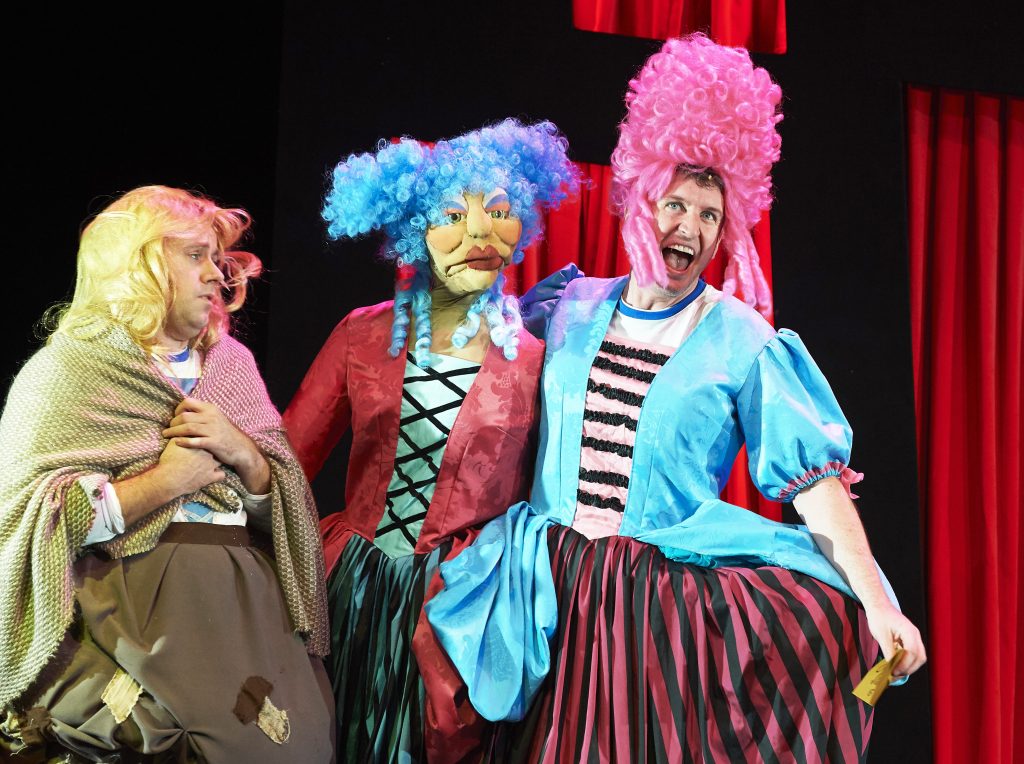 "the perfect laugh-out-loud slice of silliness that we all need this year"
Seventy minutes. Seven classic pantomimes. Or is it six? We're barely a minute in and there's already an onstage dispute. Is 'A Christmas Carol' a pantomime? Daniel Clarkson and Jefferson Turner (hereinafter referred to as Dan and Jeff) differ on this matter. They don't even agree to disagree; they just disagree. That is probably the closest you'll get to cohesion in this insanely hilarious, outlandish, madcap romp through some our best loved Festive Fairy Tales.
Oh, no it isn't!
Oh, yes… actually, that comes later, as do all the traditional principles: the double entendres, the slapstick, the booing and the hissing, the 'ghost gag', the songs. But the overriding ingredient in "Potted Panto" is the humour. Seventy minutes may be quite a short running time in a West End theatre, but it is a long time to laugh out loud. If you do go to see this show (and you most certainly should) then make sure you get in trim. Apparently we use thirty muscles when we laugh. You will need them all to be in top notch condition for this show.
Dan and Jeff are masters of the craft. As a double act they have perfected their comic timing, chemistry and intuitive sense of humour. They make old jokes new and new jokes sound like seasoned classics. Where others subvert the genre, they just completely capsize it. The kids love it without being patronised and the adults love it without having to dumb down. With Richard Hurst (who directs too) Dan and Jeff have concocted a script that is intensely intelligent and supremely silly.
'Jack and the Beanstalk', 'Dick Whittington', 'Snow White', 'Sleeping Beauty', Cinderella', 'Aladdin' and 'A Christmas Carol' have barely a ten-minute time slot each. But it's a wonder any of the storylines can be squeezed in amid the deviations, digressions and surreal tangents that the couple go off on. Jacob Jackson and Charlotte Payne appear in cameo roles occasionally, but otherwise it's all down to Dan and Jeff. And Nicky Bunch's offbeat costumes. In time honoured Vaudeville fashion, they pay homage to the likes of Morecambe and Wise, among others. Jeff is the (ever so) slightly more serious one, hopelessly trying to reign in Dan and teach him the intricate rules of Pantomime ("No, Dan, 'Das Boot' is not a traditional pantomime!").
Where else on the stage can you experience theatre in 3D? Think about that one. Where else can Prince Charming get the chance to kiss three iconic Fairy-tale princesses in the space of half an hour? (Well – he actually doesn't. In a very tongue-in-cheek nod to wokeness, our gallant Prince informs us that breaking into a sleeping girl's bedroom with the intent to kiss her without consent is "not happening on my patch!"). How does Aladdin's antagonist, Abanazer, end up being visited by the ghosts of Christmas past, present and future? This is just the tip of the iceberg. It is tempting to reveal the many, many other bizarre moments, topical jokes, cross references, cross dressing, character bending, plot twisting-until-its-snapping, in jokes, out jokes, shake-it-all-about jokes, visual puns, self-mockery, satire, innuendos… but I won't.
Oh, yes I… (no – I won't).
"Potted Panto" is the perfect laugh-out-loud slice of silliness that we all need this year. A must see for everyone. Especially for those who dislike (or pretend to) the genre. It is impossible not to love this show. It is seven stories for the price of one. And seventy minutes of unadulterated joy, which is priceless.
Reviewed on 18th December 2022
by Jonathan Evans
Photography by Geraint Lewis


Previously reviewed at this venue: