Vice
Etcetera Theatre
Reviewed – 31st July 2019
★★½
"a wide-reaching play that has much to say about the world, but more than can be accomplished within its short length"
Any writer looking for dystopian inspiration can easily cherry-pick examples from the present day, something which can be seen in Vice's opening film reel of horrors – featuring clips ranging from Tony Blair's invasion of Iraq to the more recent Grenfell Tower fire. But choosing too many things to rail against is what lets down Vice, an ambitious play that attempts to marry the personal and the political, but which ends up feeling a little lacklustre.
Following its rather powerful cinematic opening, the show leads us into the lives of a band of characters in the year 2023, a "new world" filled with war and old-fashioned air raid sirens. Revolutionaries Patrycja (Clementina Allende Iriarte), Em (Beth Siddall), and Johnny (Dimitris Kafataris) are planning a kidnap. While on the other side of the spectrum, politician Wetherby (Liam Arnold) argues with his daughter Jayne (Georgia Hodgson) about the disappearance of her sister – an incident that tops his litany of rather clichéd scandals. The two storylines intersect against a backdrop of bombings and uncertainty as we uncover the motivations and regrets behind each group.
Written and directed by Matt Rolls, the show has its merits and the cast largely deliver good performances, most notably Siddall, but also Kafataris, whose character adds a small but welcome element of comic relief to otherwise serious scenes. However, a plot that starts out as intriguing cannot sustain itself and ultimately lets down the carefully curated wartime atmosphere of the first half. The ending seeks to neatly wrap up all threads, but in doing so, sadly renders many of the characters and themes introduced earlier on redundant.
The cast and creatives are all graduates and current students of East 15 Acting School and they work well together. There are some well executed group scenes, good costume and design, and some staging that – although it probably changes around more than necessary – sets the scene effectively. But Vice's other creative elements are undermined by a script that could have been tighter. While the writing has moments of cleverness and there are some promising monologues, these feel badly wedged into the main plot. Many lines simply offer a stand-alone commentary on today's society and have no need for the context of the play's murky future. The play also relies too heavily on its headline concept of the "old world" and the "new world", continuously shoving this down the audience's throat, with overzealous references to these terms peppered throughout.
In the end, Vice is a wide-reaching play that has much to say about the world, but more than can be accomplished within its short length. The result is a work too bogged down with elevated concepts to deliver a satisfying story.
Reviewed by Vicky Richards
Photography by Matt Rolls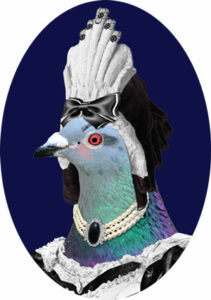 When it Happens
Etcetera Theatre until 4th August as part of Camden Fringe 2019
Last ten shows reviewed at this venue: