Otelo
Southwark Playhouse
Reviewed – 28th September 2017
⭐️⭐️⭐️⭐️
"the idea is an undoubtedly clever reading of the play" 
Viajeinmovil's Otelo arrives at the Southwark Playhouse as part of the CASA Festival 2017, which celebrates the best shows from Latin America. Otelo, awarded Show of the Year (2009) at Chile's El Mercurio Awards, is a 'fast and furious puppetry reimagining' of Shakespeare's Othello. It is a whistle-stop tour of Shakespeare's drama and it has an ingenious concept of making Iago's evil manipulations literal: by convincing Othello that his Desdemona is unfaithful and physically operating the 'Othello' puppet, he is literally a puppet-master.
While the idea is an undoubtedly clever reading of the play and is marvellously executed by both Jaime Lorca (Iago) and Nicole Espinoza (Emilia), many in the audience at the show I attended found the puppetry and ventriloquism too hilarious, even during the deathly serious moments, right up to Othello's murder of Desdemona, with much laughter rather spoiling the horror. That's not to say that the puppetry is never used comically – there are quite a few jokes in the initial half of the play – but Otelo has a serious point to make. The programme states that the play explores 'Latin America's horrific record of femicide' and the death of Desdemona is chilling. The racism implicit in the original is also given a renewed emphasis. This puppetry has many serious points to make.
The duo, in both acting their parts and manipulating the puppets, are both superb, and the singing is sublime as well. The play is performed in Spanish with English subtitles appearing above the action, on the black wall at the back of the small stage. The pared back presentation – only props which are necessary to the drama appear upon the stage – adds to the intensity of this important, moving performance.
Reviewed by Alice Gray
Photography by ViajeInmovil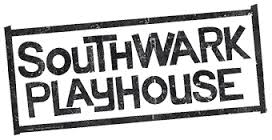 OTELO
is at Southwark Playhouse until 30th September as part of CASA Latin American Theatre Festival