Turkey
The Hope Theatre
Reviewed – 28th September 2017
⭐️⭐️⭐️ 1/2
"moments of true theatrical beauty"
Turkey is impossible to simplify; somewhere between a modern Hedda Gabler and Yerma, it retains all the qualities of the greatest stories ever told, with a distinctly modern perspective. Hilariously funny, Turkey presents a liberal love story with a twist, though it's crash-cut ending leaves the audience desperate for the end of the story.
The narrative follows the story of Maddie and Toni, a young lesbian couple who are happily monogamous, living a normal life. There's just one issue; Maddie wants a baby and Toni can't give her one. The visceral story explores the issues of motherhood in more unusual concepts, exploring the lengths to which one is willing to go to reach the ultimate goal and the consequences of tunnel-vision. The dialogue is incredibly well written and super snappy, with some truly breathtaking moments of stillness, though the pacing sometimes seemed to be lost in the middle of scenes.
The acting is strong and solid; Harriet Green gives a natural and consistently strong performance and Cameron Robertson flickers between an older man, out of place in the world of the young couple and a youthful exuberance that controls the stage. Pevyand Sadeghian (Madeline) gives a fiery performance, but sometimes lacks the depth that could make the character more likeable.
The set is constructed from a series of boxes and hanging props, allowing the piece to flit between abstract proxemics and physicality and the daring realism of the script and performances; credit must go to Niall Phillips' direction for streamlining these differences into a coherent and well-functioning whole that serves the story with specificity and style. The comedy is incredibly well-written, truly highlighting the more dramatic moments, but can sometimes make the characters feel a little archetypal.
For me, the plot felt a little too centred around a single event or concept, rather than following through a more developed story line, and I would love to see this piece expanded and developed to 90 minutes or more, with a clearer reason behind the narrative. Turkey is a solid piece of theatre, with an interesting and uncommon story and some moments of true theatrical beauty. I look forward to seeing the next steps of Frankie Meredith's writing career and will be watching closely; this is certainly a jaw-dropping achievement for Meredith's first full-length play and the entire team must be commended for creating an original yet classically soulful story.
Reviewed by Tasmine Airey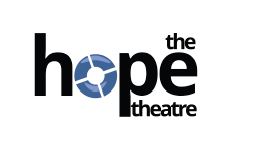 TURKEY
is at The Hope Theatre until 14th October