Reboot: Shorts 2
The Bunker
Reviewed – 15th October 2018
★★★★
"a show that demonstrates the diversity, vitality and ambition of young theatre-makers"
Shorts 2 is the second night of new writing produced by Reboot Theatre Company. With the use of simple staging, committed performances, and six of the best short plays selected from hundreds of submissions, Reboot (along with director Nico Pimparé) present a promising glimpse of a new generation of playwrights.
The show opens with Cradle, based on the deceptively simple premise of a couple (played by Faidon Loumakis and Athena Bounti) drifting apart. But, like the new Mercedes sitting proudly in their driveway, this is simply a cover, one that writer Sascha Moore slowly strips away to reveal a harrowing story of loss. The plot is layered and complex – surprisingly so considering its length – and Bounti's performance is captivating.
It's a hard act to follow, but The Answer is more than capable of doing so. It's 1973, and Clive (Tom Blake) is taking a step into the future by purchasing an "ansafone"; his wife Jenny (Rachel Brown) thinks it's a step too far. Tom Glover expertly satirises our age-old obsession with the latest must-haves. The writing and performances are witty, self-assured, and a great contrast to Moore's tension-laced opener.
Kiss Kiss by Lily Shahmoon follows co-workers whose affair begins at completely the wrong time. They only have a few more months together before Hayley, who is pregnant, must retreat into stability. Shahmoon has created a sweet and endearing love story, and gives it a twist by presenting it entirely through text messages. Bounti and Michael Waller have great chemistry as Hayley and Chris, but important moments sometimes feel rushed.
Laura Harper's Vermin opens the second half: whilst not as strong of an opener as Cradle, it is an intriguing premise that is well-executed. Lucinda and Ash are in pursuit of a fox. He wants to prove his usefulness to the resistance, she to gain access to the upper echelons of society. Harper's piece is sinister, but its swift pace sometimes hinders our understanding of her dystopian world.
After a string of two-handers, Harry ter Haar's Cheating unites four of the five actors to discuss the meaning of this act. Nick (Blake) announces in the middle of dessert that his wife is cheating on him…but is she? What follows is an absurd unravelling of the concept of "cheating" that impressively combines humour and high stakes. As in The Answer, Blake steals the show with his comic timing.
The final piece, Candy, is a monologue that rounds off a balanced programme. Will (Waller) is not the sentimental type, but a chance encounter with the woman of his dreams transforms his outlook. The piece is somewhat predictable and you can see the ending coming, but this does nothing to devalue Tim Fraser's well-rounded exploration of character. Waller is likeable and engaging, drawing the audience in and effortlessly keeping them engaged.
Reboot have clearly worked hard to showcase a variety of forms and perspectives. The result is a show that demonstrates the diversity, vitality and ambition of young theatre-makers.

Reviewed by Harriet Corke
Photography by Ali Wright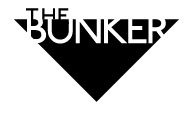 Reboot: Shorts 2
The Bunker
Previously reviewed at this venue: