Killymuck
The Bunker
Reviewed – 28th March 2019
★★★★
"an honest and informative play that confirms that we are not all born equal"
Since opening in 2016 the Bunker Theatre has remained true to the initial objective of being home to exhilarating and contemporary theatre, representing the world in which we live. The current season, announced as revolutionary from new artistic director Chris Sonnex, features a double bill of one-woman shows – namely Killymuck and Box Clever. 
Whilst each show can be seen individually on separate dates, watching both the same day is recommended, as whilst very different, together they have a connection of putting female benefits-class and working-class voices forward.
Written from personal experience by Kat Woods Killymuck tells the story of Niamh, a young woman growing up below the poverty line on a Northern Ireland housing estate in the late 1970's Thatcher Years. We are given an insight into what growing up on a council estate is like and how it can affect the present and inform the future.
Designer Minglu Wang has created a versatile space from which we learn much about Niamh's family and friends and the experiences that forge her personality. Whilst telling her life stories she is generally within the confines of a square surrounded by eight vertical fluorescent tubes. When she steps outside of these she takes on a lecturer style giving the audience facts about equality and class. It both informs and entertains. 
We learn about her unpleasant alcoholic father but also laugh along with her stories of local boys, a Ouji Board and babysitting for the sex worker who lives next door.
The part of Niamh is played with much confidence, energy and conviction by the outstanding Aoife Lennon. Her performance is faultless and thoroughly deserved the rousing applause she received from the attentive audience. The lighting design from Joe Price enhances the actor's performance and Benjamin Grant's sound design also adds to the atmosphere. The direction from Caitriona Shoobridge ensures Lennon keeps the pace of this thought provoking play and makes perfect use of the space available.
Overall this is a fine piece of theatre from three very talented women involved in the writing, acting and direction of an honest and informative play that confirms that we are not all born equal and don't all have the same opportunities in life.

Reviewed by Steve Sparrow
Photography by Craig Sugden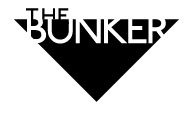 Killymuck
The Bunker until 13th April
Last ten shows reviewed at this venue: