Benidorm Live!

Theatre Royal Brighton & UK Tour
Reviewed – 25th February 2019
★★★★
"Adam Gillen is particularly entertaining and chucklesome as Blow 'n' Go hairdresser Liam"
Sun, sea, saucy jokes, sangrias and saveloy puns galore. Twelve years after ITV's smash hit Benidorm first aired, writer Derren Litten, as part of a nationwide tour, brings the Brit-abroad phenomenon to the Theatre Royal Brighton with his new stage show Benidorm Live! The premise is clear, The Solana Hotel is in trouble and when word of an undercover hotel inspector arriving spreads, panic ensues. The show follows three storylines that intertwine skillfully through a mix of musical interludes and a revolving set, beautiful created by designer Mark Walters. The Solana's staff hunt for the illusive hotel inspector's identity, beloved hairdresser Kenneth has a new admirer Derek (Damian Williams) and posh couple Sophie (Tricia Adele-Turner) and Josh (Bradley Clarkson) are forced to stay in the Solana, due to their more expensive and less shabby hotel being accidently overbooked.
Under strong and clear direction from Ed Curtis we are quickly reunited with fan-favourites Mateo (Jake Canuso), Jacqueline (Janine Duvitski) , Joyce Temple-Savage (Sherrie Hewson), Sam (Shelley Longworth) and Kenneth (Tony Maudsley); each of whom are greeted with a rapturous round of applause upon entering the stage in panto-esque fashion however Adam Gillen is particularly entertaining and chucklesome as Blow 'n' Go hairdresser Liam. It is evident that all the characters are dearly beloved and their chemistry from the BAFTA winning series is clear from the off. They are supported by a talented ensemble of Will Breckin, Kevin Brewis, Deborah Bundy, Serena Giacomini, Will Jennings and Ben Redfern.
Although not dubbed a musical, the show contains a plethora of well-known hits from Livin# La Vida Loca to Nat King Cole's Unforgettable. Singer Asa Elliott does well to hold the musical interludes and numbers together, but they lack any real punch and failed to get the audience singing along despite his best efforts. Although the characters needed to be an exaggerated version of their TV self, sound levels were set far too high meaning you often felt as if the actors were shouting, diminishing the need for microphones altogether outside of the big musical numbers; This also becomes a detriment throughout the evening as lines and gags are lost.
That being said, whether you're a newbie checking into the Solana for the first time or a regular in Neptune's Bar, you can't help but smile at Benidorm Live's adult exuberance. Derren Litten's creation is the lovechild of Fawlty Towers and your local pantomime, just a lot bawdier. A laugh-a-minute high energy show.
Reviewed by Nathan Collins
Photography by Paul Coltas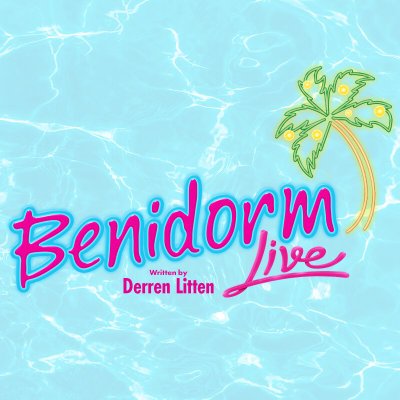 Benidorm Live!
Theatre Royal Brighton & UK Tour
Previously reviewed at this venue: