Final casting is today announced for the world première of a major new musical, "The Braille Legacy", the thrilling, true, inspirational and epic story of Louis Braille, a young blind boy who wanted the same chance in life as those who see and ended up improving the lives of millions of blind people around the world.
It is being directed by acclaimed director Thom Southerland ("Ragtime", "Titanic", "Grey Gardens", "Death Takes A Holiday") and will première at Charing Cross Theatre (Artistic Director Thom Southerland, Managing Director Steven M. Levy) from Monday 10 April to Saturday 24 June.
Joining previously announced Olivier Award nominated Jérôme Pradon (West End credits include the UK premiere of the musical "Women On The Verge of a Nervous Breakdown", Guillaume in "Martin Guerre", Chris in "Miss Saigon", Javert in "Les Miserables", and Judas in the Emmy-winning video of "Jesus Christ Superstar") are: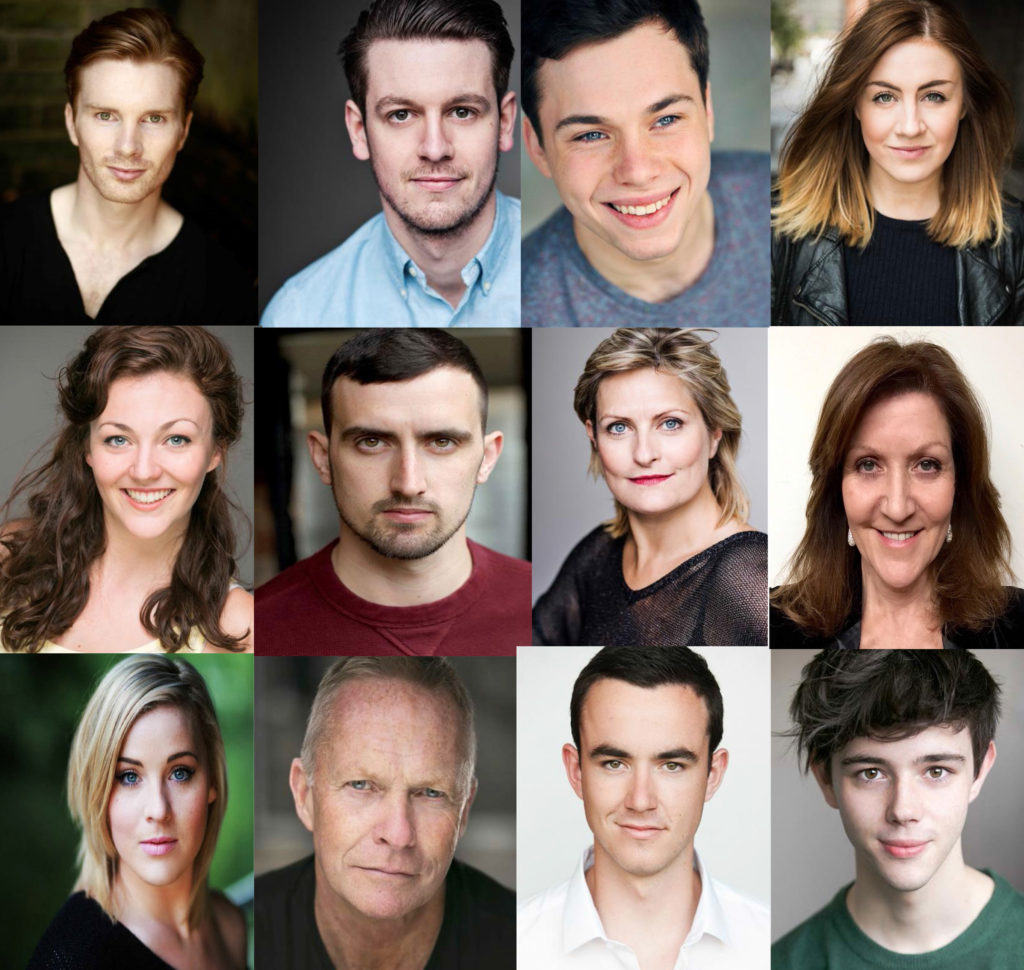 Jason Broderick ("Godspell" UK tour, "Anna Nicole – The Opera" Royal Opera House); Tate-Eliot Drew ("My Lands Shore" Ye Olde Rose N Crown Theatre); Will Haswell ("Jersey Boys" West End, Pinocchio in 'Shrek the Musical" UK tour); Lottie Henshall ("Doctors" BBC1); Sarah-Marie Maxwell ("She Loves Me" Menier Chocolate Factory, "Top Hat" UK tour); Matthew McDonald ("Death Takes a Holiday" Charing Cross Theatre, "Allegro" Southwark Playhouse); Kate Milner-Evans ("Showboat" West End, Carlotta in "The Phantom of the Opera"); Janet Mooney (West End includes "Les Miserables" and "Love Never Dies"); Ceili O'Connor ("Grand Hotel" Southwark Playhouse, "Evita" UK tour); Michael Remick (West End includes "Dirty Dancing" and "The Sound of Music"); Ashley Stillburn (Corrado in "Death Takes A Holiday" Charing Cross Theatre, "The Phantom of the Opera" and "Les Miserables" West End); Jack Wolfe (is making his professional stage debut as Louis Braille); and a child cast featuring Guillermo Bedward, Thomas Brown, Tallulah Byrne, Beau Cripps, Ilan Galkoff, Honey Harrison-Maw, Eliz Hassan, Megan Haynes, Zachary Loonie, Mimi Slinger, Ophir Fifi Tal, William Thompson.
"The Braille Legacy" is the story of a revolution and an heroic fight for independence, with the themes of difference, freedom, hope and love and the triumph of human values over adversity.
In Paris in the 19th century, blind people were victims of profound discrimination. Louis Braille, a bright young mind with a mad dream, arrives at the Royal Institute of Blind Youth, searching for the same chance as everyone else: to be free and independent. But he soon discovers that people and things aren't always what they first seem. By sheer determination and courage he stumbles upon something revolutionary: a simple idea, a genius invention, a legacy. Two hundred years ago, Louis Braille changed the world by inventing the tactile system of communication, the Braille alphabet, liberating the "People of the Night" and introducing literacy, knowledge and culture to a people who were otherwise trapped. It was their journey into the light.
"The Braille Legacy" has an original French Book and Lyrics by Sébastien Lancrenon, Music by Jean-Baptiste Saudray, with an English translation by Ranjit Bolt. Music Supervision and Orchestrations are by Simon Lee.
The full creative team is: Director: Thom Southerland, Music Supervision and Orchestrations: Simon Lee, Musical Director Toby Higgins, Choreographer Lee Proud, Set Designer: Tim Shortall, Lighting Designer Tim Lutkin, Costume Designer: Jonathan Lipman, Sound Designer: Andrew Johnson, Casting: Stephen Crockett at Grindrod Casting, Children's Casting: Jo Hawes, Music Preparation: Simone Manfredini, Associate Director Rupert Hands.
---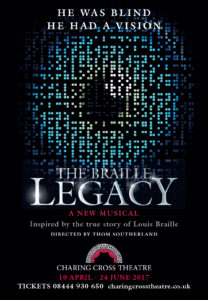 The Braille Legacy Ltd by arrangement with
Colbert Entertainment Ltd present
The Braille Legacy
Monday 10 April to Saturday 24 June
Monday – Saturday at 7.30pm
Matinees Wednesday at 2.30pm
and Saturday at 3.00pm
Audio-Described Performances:
Saturday 27 May at 3.00pm
Monday 29 May at 7.30pm
Ticket prices:
Stalls £32.50
Balcony £22.50
Slips £17.50
Premium seats £39.50
Premium seats are best stalls locations,
and include a programme and a glass of
sparkling wine

The Arches
Villiers Street
London WC2N 6NL
08444 930650