Persephone's Dream
The Cockpit Theatre
Reviewed – 22nd September 2020
★★★
"thirty minutes of appreciation of all the odd, disjunctive tricks that dreams, good and bad, can play on us"
Persephone's Dream, put together from a concept and libretto by Tania Holland Williams, has been created by a company that only began working together, and then remotely, after the beginning of the pandemic. Billed as a "digital/live hybrid opera", this piece is part of a socially distanced live performance series at the Cockpit Theatre brought together by the Tête á Tête Opera Festival. But if you missed the September 18th performance in house, or the September 22nd interactive broadcast online, don't worry. A recording of the interactive broadcast will be available, also online, for 28 days.
Persephone's Dream is an intriguing work, with some inspired touches. Some touches are well realized—some don't go far enough. Given the difficult circumstances of any act of artistic creation at the moment, this is not surprising. And thirty minutes is a sensible performance time if you are performing indoors during a pandemic. But it is also a challenge if you are tackling profound subjects (including that of the pandemic itself) that need time, space (and decent lighting) to develop into something of special significance.
Persephone's story is well known. Holland Williams takes the Greek myth as her starting point, but instead of focusing on Persephone above ground in her Spring and Summer guise, she
introduces us to Winter Persephone. This is the Persephone who spends her time in Hades, dreaming of her return to her mother, Demeter's, world. From the confines of the underworld, Holland Williams' libretto encourages us to make the connection with the confines of the pandemic. Persephone spends considerable time singing of pursuits like gardening and dog walking—subjects that take on a heightened significance when you are enduring winter—or lockdown. In Persephone's Dream, we are all encouraged to dream of the things we can't do until the end of the pandemic. It's a bold, and engaging, concept.
Inspired touches in Persephone's Dream include two female performers onstage, accompanied by a "Chorus of Curious Eyes". Anna Brathwaite sings us into an appropriate dream state as Persephone, while Clare O'Connell accompanies Brathwaite with both cello and voice. In addition to singing, Brathwaite's Persephone spends most of her time winding and unwinding herself in her remarkable costume, which includes a chess set attached to the front of it. In fact, it's not so much a costume as a set design. (Kudos to Sarah Jane Booth, in charge of both costume, stage and digital design.) Another inspired touch is the "Chorus of Curious Eyes" which is the digital component of this opera. The Chorus is composed a mosaic of faces, projected onto a large screen. Each face, broadcast live, accompanies the action on stage in different ways. Intriguing as this is, however, much more could have been made of the Chorus. Viewers of the broadcast version online will also feel a certain frustration at being unable to see much of the detail on this screen, since the camera doing the recording is so far away.
But Persephone's Dream is intriguing enough to be worth a visit, even viewed online. It's thirty minutes of appreciation of all the odd, disjunctive tricks that dreams, good and bad, can play on us. A timely reminder, when we look back on these extraordinary times, at how we might remember the dreams we had while trapped in hell.
Reviewed by Dominica Plummer
Photography by Claire Shovelton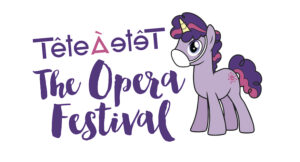 Persephone's Dream
The Cockpit Theatre as part of Tête à Tête Opera Festival 2020 also available online
Previously reviewed by Dominica: