The 39 Steps
Upstairs at the Gatehouse
Reviewed – 4th October 2017
⭐️⭐️⭐️⭐️
"Moulder played Richard Hannay, the protagonist, amusingly well"
The 39 Steps was originally a thriller novel by John Buchan. It was famously brought to the silver screen by Alfred Hitchcock in the 1930s. Tonight's take by the Tower Theatre Company was based on Patrick Barlow's comic adaptation that ran for over nine years in the West End. The plot and characters are broadly in line with the film, with the notable difference that the scenes are now being played for laughs and with a cast of only four.
It was an accomplished performance by all concerned, and I would never have known it was the first performance of the run. It is a skilfully written adaptation and the actors served it well under the spot on direction of Rob Ellis.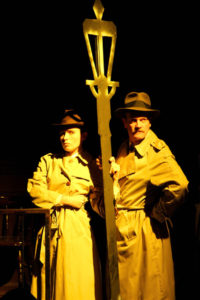 Adam Moulder played Richard Hannay, the protagonist, amusingly well and there was a real ensemble feel between him and the other actors. Sophie Mackenzie, cleverly changed characters as required, as Annabella Schmidt initially, and then two other ladies romantically linked to Hannay. Dom Ward was excellent at bringing humour to each of his numerous roles, and made clever use of voices and characterisation. Emily Grimson was also a good sound part of the team, and there was no dropping of pace, by anyone, even when doing set changes.
By necessity, the staging was fairly simple. Costumes fitted the period and the part, but were quite basic to allow the actors to don different outfits quickly. Props were used effectively and imaginatively.
This production would perhaps benefit from a bigger space, and a longer run, as it was an incredibly entertaining way to spend an evening. I thoroughly enjoyed this pacy piece as did my companion, and the rest of the audience!
Reviewed for thespyinthestalls.com
Photography by Robert Piwko


THE 39 STEPS
is at Upstairs at the Gatehouse until 14th October