The Problem With Fletcher Mott
Tristan Bates Theatre
Reviewed – 15th September 2018
★★★★
"

funny and genuine and well meaning

"
The Problem With Fletcher Mott could have chosen to be a heavy, hard to digest piece of theatre. Dissecting the role that personal and professional anxiety play in creative processes could easily be an immense task that leaves its audience drained and unmotivated. On the other hand, this piece of theatre, put together confidently by students from Goldsmith's University, held a strong sense that this specific brand of anxiety is only as powerful as we allow it to be – and, what's more, that perhaps it's necessary in small doses for any kind of creativity to take place.
There were certain elements of the structure that were perhaps a little outdated: presenting anxiety in a physical form does feel a bit like an easy fix to the enormous problem of how to represent mental health issues on stage. However, I would definitely prefer to focus on what this piece is saying rather than how it says it. Amid a comedically mountainous heap of problems: The dream girl stolen swept off her feet by a more successful, more popular upstairs neighbour, the looming deadlines for new work and the ever present ghost of a past successful play that came and went six years ago, there's a very emotionally well tuned message. That said, it never becomes preachy.
The protagonist is far from always right, and neither is anyone else. Instead, the entire cohort of characters just spent an hour and a bit being horrified by the extent to which everyone around them could be wrong, and personally I think that worked better.
All in all, The Problem With Fletcher Mott was just funny and genuine and well meaning, and really that's all it needs to be.

Reviewed by Grace Patrick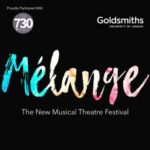 The Problem With Fletcher Mott
Tristan Bates Theatre as past of Mélange: The New Musical Theatre Festival